Wine Grower Aldo Biale Passes Away 1929-2009
Posted on December 14, 2009

Longtime Napa Grape grower and winery partner, Aldo Biale, passed away peacefully at his home in Napa today following a short illness. He was 80 years old.

According to the Biale family, Mr. Biale had been fighting a series of health problems and was released from Queen of the Valley Medical Center in Napa on Friday, then quietly passed away at home on Saturday morning.

A born Zinfandel grower, patriarch of the Biale family vineyards on El Centro Avenue in Napa, and partner in Robert Biale Vineyards, Mr. Biale's life was devoted to his family, his Catholic faith and growing grapes that produce two of the market's most highly regarded Zinfandels – Black Chicken and Aldo's Vineyard.

For decades, Mr. Biale sold the Biale vineyard grapes to several wineries, including the Cooperative Winery in St. Helena, where his grapes were blended with a host of other families' grapes into large production wines.

In 1991, Mr. Biale realized a long held dream of making high quality wines. He was instrumental in creating a winery partnership with his oldest son, Robert, marketer Dave Pramuk, and winemaker Al Perry that became Robert Biale Vineyards – a winery that has grown to become highly rated by reviewers and regarded as one of the finest producers of Zinfandel in California.

On October 24, 1929, Aldo Benedetto Biale was born at Parks Victory Memorial Hospital on Jefferson St. in Napa. Until age seven, he lived on Mt. Veeder at the Gier Ranch where his northern Italian immigrant parents, Pietro and Christina Biale, worked the ranch and vineyards. Eventually, the family established the farm on El Centro Avenue that included Zinfandel vineyards, a large population of chickens, walnuts, and prune orchards. This property is now surrounded by houses, and is believed to be the last family farm in the town of Napa.

Mr. Biale learned to make home wines as a teenager after the passing of his father. He made extra money by selling some of his wine around Napa, using the code name "Black Chicken" over the family's party line phone system.

In addition to running the family farm, Aldo was a retired long time employee of the City of Napa Department of Public Works.

"Aldo passing away is a sad loss for his family, the Napa community, the winery in particular, and the Zinfandel industry and Napa Valley in general," said Biale partner Dave Pramuk. "Aldo was a hard-working, devoted old school family man, and farmer that stuck with grapes through thick and thin – a lot of thin – and helped preserve the agricultural base of Napa Valley," Pramuk added.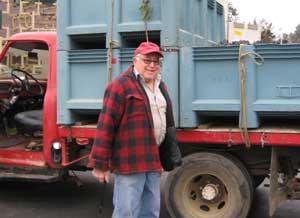 ROSARY
Friday, December 18, 7:00 PM St. Apollinaris Catholic Church, 3700 Lassen, Napa.

MASS OF THE RESURRECTION Saturday, December 19, 10:30 AM, St. Apollinaris Catholic Chuch, 3700 Lassen, Napa.
In addition to his winery family, Aldo leaves his spouse of 56 years, Clementina, his daughter Sandra, his sons Robert and Mark, sons- and daughters-in law, and grandchildren.

DONATIONS:
Clementina has asked that donations be made in Aldo's memory to the following organizations:
o The John Biale Scholarship Fund at Justin-Siena High School, Napa.
o Queen of the Valley Hospital Foundation, Napa.
o St. Apollinaris Catholic School, Napa.
Region:
Napa & Sonoma
Job Function:
President/Owner/GM