Robert Young Dies
Posted on September 17, 2009

Lifelong Alexander Valley farmer and grape grower Robert Young, 90, died June 19, 2009. Young was born March 6, 1919, on farmland that already had sustained his family for two generations. A chunk of the ranch on Red Winery Road became his property and his obligation at age 16 when his father died. He leaves the 317-acre ranch to four sons and daughters who continue to farm premium grapes sold to Chateau St. Jean, Blackstone, Clos du Bois, Simi and other wineries.

The family's oldest and most mutually beneficial relationship is with Chateau St. Jean, which in 1975 used Robert Young Vineyards grapes for a Chardonnay and then credited that fact on the label. With that labeling, Chateau St. Jean became the first U.S. winery to concentrate on vineyard-designated wines. Although Young's children sell most of their grapes, they keep some of the best for their 12-year-old Robert Young Estate Winery. They call their signature wine "Scion" in tribute to the clan's patriarch, a prune farmer who took a chance on the grape.

Word of his death was a painful blow to neighbors and Wine Country colleagues who praised him as a man who was bold, innovative, hardworking, generous and community minded. The Youngs had been married for 48 years when Gertrude died in 1988. Young married Donna Anne Watts in 1992. In addition to his wife, son Jim Young and daughter Susan Sheehy, he is survived by his son Fred Young and daughter JoAnn Young, both of Healdsburg; his sister, Marion Penry of Healdsburg; 12 grandchildren; and nine great-grandchildren. Young's family held a memorial service in early July.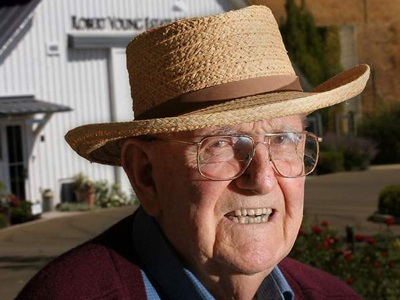 Region:
Other North Coast
Job Function:
Grower