Emily Choinski named as Tasting Room, Events and Social Media Manager for Big Basin Vineyards
Posted on July 14, 2021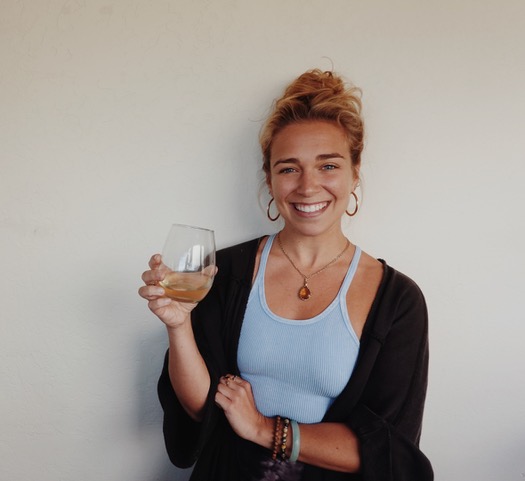 Boulder Creek, Calif. – Emily Choinski is the newest addition to the team at Big Basin Vineyards, officially assuming the responsibilities for in-person customer relationships and sales as well as the Big Basin Vineyards face and voice via social media channels.
"Emily brings a unique mix of experience in wine making, sales, events and program management. But just as important, she fits perfectly into our down-to-earth, quality-driven, outdoors-oriented culture." says Founder and Owner, Bradley Brown. "Emily is creative, resourceful, organized and passionate – about wine, service and quality. We are thrilled to have someone like her to drive the expansion in our tasting room and event business."
Choinski has worked in retail and digital marketing, consulting and event management jobs in Seattle, New York City, Redmond and Joshua Tree. She double-downed on her wine passion and worked the 2020 harvest at NW Wine Company in Dundee, Oregon assisting the winemaker, before she headed to Stellenbosch to do the same during their 2021 harvest.
"I was doing winery work in Stellenbosch, South Africa when I saw the Big Basin Vineyards job posting. I have always dreamed of living in the Santa Cruz area, working in the wine industry. The opportunity to take on a critical new role for a team producing such outstanding wines was an alignment of the stars," says Choinski. "I am looking forward to opening the new Santa Cruz Tasting Room in the fall, expanding our in-person relationships in new and creative ways and discovering the Santa Cruz mountains and coastline."
Choinski is responsible for setting up and managing the new Santa Cruz Wine Bar and Tasting Room at 525 Pacific Avenue in addition to managing the Estate Winery and Tasting Room in Boulder Creek. "The Santa Cruz location offers many opportunities to cooperate with other downtown businesses and to tap into the flourishing tourism in the area," says Choinski. An outdoors advocate, off-the-grid adventurer and grounded yogi, Choinski will be a valuable asset to Big Basin Vineyards and the Santa Cruz community.
About Big Basin Vineyards
Big Basin is a family owned and run estate vineyard and winery located in the Santa Cruz Mountains near Boulder Creek, California. Founded by Bradley Brown in 2000, Big Basin Vineyards produces some of the most compelling small-production artisan wines from the Santa Cruz and Gabilan Mountains. Big Basin farms organically and practices minimal-intervention winemaking and is best known for its elegant Pinot Noir, Chardonnay, and Syrah, in addition to a wide selection of Rhone-style blends and varietals.
Region:
California, USA
Job Function:
Direct to Consumer