Dusted Valley Welcomes Two Exciting New Additions to the Team
Posted on May 13, 2021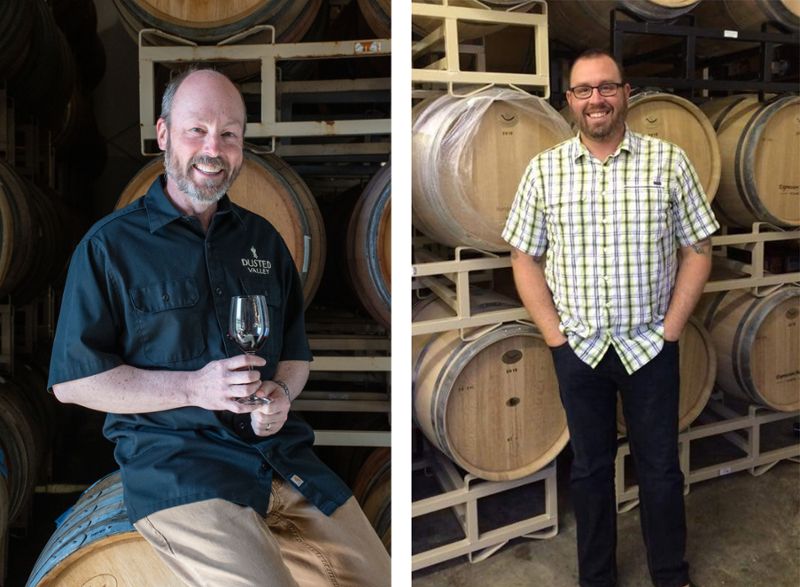 WALLA WALLA, WA – May 10, 2021 – Dusted Valley, a family-owned winery in the Walla Walla Valley since 2003, announced Chris Dowsett has been hired as the company's Production Winemaker, effective May 10, 2021. Chris will succeed Griffin Frey who had previously held the position of Portfolio Winemaker since 2014.
Chris has called the Walla Walla Valley home since 1996 when he began working as Assistant Winemaker with his friend, John Abbott, at Canoe Ridge winery. Most recently, Chris was employed by Buty Winery from 2009 through the 2019 vintage. Prior to arriving in Walla Walla, Chris held positions at several storied wineries in California and Oregon including: J. Stonestreet, Schramsberg, Robert Mondavi and Domaine Chandon. Chris grew up in Forest Grove, Oregon, in his family's vineyard and winery and has an innate relationship with wine as it has been a part of his life since he was a teenager in the Willamette Valley.
Chris and his wife, Robin, also have a small family wine project aptly named, Dowsett Family Wines. They focus on Chris's favorite white varietal with a dry Gewürztraminer, barrel fermented Riesling, rosé of Pinot Noir and a varietal bottling of Pinot Noir from his sister's vineyard in Oregon.
In Chris's new role, he will lead the Dusted Valley cellar team in the day-to-day operations of winery management. Additionally, he will take an integral role in collaborating with Dusted Valley Owners and Winegrowers, Chad Johnson and Corey Braunel, on a clear path of continuous improvement and innovation for the company's growing brands.
Billy Farrow Returns as Regional Manager – Total Market
This month Dusted Valley also welcomes Billy Farrow as the company's new Regional Manager – Total Market. A Pacific Northwest native, Billy recently celebrated his 26th year in the hospitality industry and is a professional in the truest sense of the word. For the last three years, he has served as the Hospitality Manager & Wine Educator at Mark Ryan. Prior to that, he held the position of Tasting Room Manager for Dusted Valley's Woodinville Tasting Room as well as the Dining Room Manager at Sandpoint Country Club in Seattle.
With Billy's return to Dusted Valley later this month, he will be taking on the role as Regional Manager – Total Market and will be leading the distribution channel in the Puget Sound area by working directly with retailers, restaurants and clubs. Additionally, Billy will work closely with the Woodinville Tasting Room team and Director of DTC and Marketing to support DTC activities on the westside of the state.
About Dusted Valley
This year Dusted Valley proudly celebrates their 18th anniversary of growing and crafting spectacular Washington State wine under the Dusted Valley and Boomtown by Dusted Valley labels. With strong roots in agriculture, brothers-in-law Chad Johnson and Corey Braunel focus their wine growing
philosophies in the vineyard with sustainable practices, low (or modest) yields and minimalistic winemaking. The resulting wines offer a sense of place and showcase their estate vineyards in the Walla Walla Valley and other premier vineyards throughout the state. At roughly a 5,000 case operation, Dusted Valley offerings include Cabernet Sauvignon, Syrah, and Chardonnay, along with Bordeaux and Rhone Style blends. Dusted Valley proudly shares "the good life" with friends and fans at their two tasting rooms– one at the foot of the Blue Mountains in Walla Walla and one near Seattle in the heart of Woodinville, Washington. At roughly 20,000 cases, Boomtown is available through fine restaurants and wine retailers throughout the country with current offerings include Chardonnay, Pinot Gris, Cabernet Sauvignon, Merlot and Syrah.
Region:
Washington