Crown Point Vineyards Appoints New Winemaker Simon Faury
Posted on November 19, 2019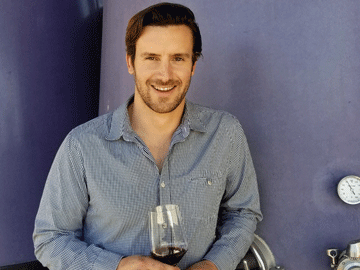 Santa Ynez, Calif.—Crown Point Vineyards, the Santa Barbara County winery known for producing distinguished Bordeaux varietal wines from their estate vineyards in the Happy Canyon AVA, is pleased to announce the appointment of Simon Faury as Winemaker.
A native of France, Faury brings extensive experience and knowledge to his new role with Crown Point. After first pursuing a winemaking career at the age of 17, Faury earned his Master's Degree in Viticulture and Enology from the University of Bordeaux and has since worked in some of the most prestigious wine regions in the world, such as Barolo, Bordeaux, Australia, Mendoza and Napa Valley. His Napa Valley resume includes such esteemed names as Robert Mondavi, The Napa Valley Reserve and Harlan. Most recently, Faury worked at Napa's iconic Merryvale as Head Winemaker, where he closely collaborated with Crown Point's Consulting Winemaker, Philippe Melka.
"To help Crown Point reach new levels of excellence, we're making an investment to build the highest caliber team of skilled individuals," explains Roger Bower, proprietor. "Simon brings depth of experience and a work ethic that matches Crown Point's dedication to quality, and given his already established working relationship with Philippe, we couldn't be more confident in our winemaking team's ability to craft extraordinary wines from our special property." Adds Melka, "Simon's winemaking philosophies perfectly align with that of Crown Point's. We're proud to have him join us in our pursuit of crafting wines that are distinctly their own."
Says Faury, "I was immediately drawn to Crown Point's unique estate in Santa Barbara County for its diversity in soils, climatic conditions and topography. I believe these are fundamental in producing complex wines with a unique personality. Here the potential is extraordinary, and I look forward to helping Crown Point achieve even greater successes as a world-class producer of Bordeaux varietals."

About Crown Point
Crown Point is an estate vineyard and winery located in the foothills of the Happy Canyon of Santa Barbara AVA. Founded by proprietor Roger Bower in 2012, Crown Point is focused exclusively on growing Bordeaux grape varieties. Crown Point prides itself on farming and winemaking at the highest possible level to produce limited production wines that represent the estate's terroir. For more information, please visit www.crownpointvineyards.com.
Region:
Central Coast
Job Function:
Winemaking