Grassini Family Vineyards Welcomes Dean McKillen as National Sales Manager
Posted on September 10, 2019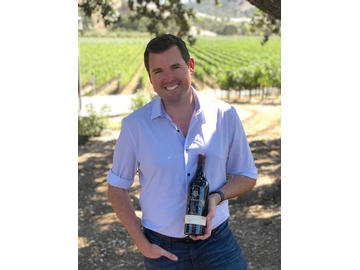 Santa Ynez Valley, CA — The family-owned and operated Grassini Family Vineyards, located in the Happy Canyon AVA of Santa Barbara County, is pleased to announce Dean McKillen has joined the team as National Sales Manager.
Born and raised in Northern Ireland, Dean McKillen started his wine career after moving to the United States to work at J&L Wines, a Central Coast distribution company. While based in Paso Robles, McKillen worked as a Sales Representative and the Key Accounts Brand Development Manager for ten years, specializing in on- and off-premise high-end wine sales while representing some of the most coveted brands on the Central Coast.
McKillen brings a tremendous breadth of wholesale wine sales experience to his new role, as well as a deep familiarity with the Grassini Family Vineyards brand, after having represented the wines for five years during his time with J&L Wines. "Dean's extensive wine sales experience lends itself perfectly to this position, while his work ethic and enthusiasm for all things wine make him a natural fit for our company," says Katie Grassini, CEO. "We are a true family-run business, and as my husband and a member of our family, no one is better suited to represent the Grassini Family and our wines. We are thrilled to have him onboard to help share our story."
Established in 2002, Grassini Family Vineyards is a family-owned and operated winery located in the Happy Canyon AVA of Santa Barbara County. Dedicated to producing Bordeaux varietals from their 35-acre estate vineyard, Grassini Family Vineyards is built around a passion for exceptional wine, a commitment to family and a responsibility to the environment. Grassini Family Vineyards' award-winning tasting room is located in the historic El Paseo complex in downtown Santa Barbara's Presidio Neighborhood, where wines by the tasting flight, glass and bottle are available to enjoy within the inviting space or on the sun-soaked outdoor patio.
Region:
Central Coast
Job Function:
Sales/Marketing