Jay Heminway, Pioneering Zinfandel Specialist at Green & Red Vineyard, Dies at 79
Posted on July 11, 2019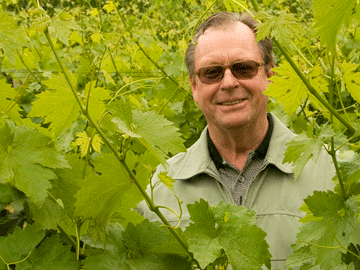 Napa, Calif.—Jay was born on April 10, 1940, in New York City, to Jane and Jack Heminway. Jay's interest in wine was sparked early in life. His parent's friendship with the iconic Alexis Lichine brought Jay to work at Château Lascombes, in Bordeaux, in the summer of 1960. Jay worked in the cellar where his daily pay was a morning bottle of Algerian wine. After his 1962 graduation, from Colorado College, Jay worked for celebrated New York City wine merchant, Sherry-Lehmann, where he was fortunate to sample some of the world's most celebrated vintages of the time.
Thereafter, Jay pursued various interests, among them graduate coursework in sculpture at the University of California, Berkeley, motorcycle racing, travels including a hitchhiking trip across the Sahara Desert from Morocco to Egypt, and even a stint making art in the Lombardy region of Northern Italy while on a Fulbright scholarship.
While at Berkeley, Heminway fell in with a lively group of food and wine lovers, including life-long friend Alice Waters, who would go on to found the paradigm-shifting restaurant Chez Panisse. Jay also began exploring the local Bay Area wine regions. In 1970, he stumbled upon and soon purchased a property located on the steep slopes above Chiles Canyon, on the eastern edge of Napa Valley, where the historic Chiles gristmill once stood.
First planted to vines in the 1880s, the property comprised of a cold-water hunting cabin, a burned-down barn, and a 1950s Fisher Fleetwood Cadillac. Jay's septic contractor, at that time, exclaimed, "Gosh, what great soil — you should throw in a few acres of grapes," and Jay did.
For the first four years, Jay watered his vines from a spring-fed redwood storage tank purchased from the nearby Chappellet Winery. Pressing and bottling the first vintage in 1977 by hand, the self-taught Heminway was soon expertly crafting his wines into luscious, food friendly, and award winning wines.
Green & Red Vineyard, perched on a hillside above the Chiles Valley, is named for it's decomposed red-chert soils laced with veins of green serpentine. Within a few years, Jay became celebrated as a torchbearer for Zinfandel, California's "native" grape, at a time when others were focusing their efforts on Cabernet and Chardonnay.
In 1992, Green & Red was among a group of 22 Zinfandel wineries that formed a new organization called Zinfandel Advocates and Producers (ZAP). The first ZAP tasting was held at the Mandarin Hotel, in San Francisco, and Jay was there, along with Ravenswood, Ridge Vineyards, Rosenblum Cellars and other noted Zin producers.
For more than two decades, Jay Heminway has proudly produced the house Zinfandel at Alice Waters' Chez Panisse. "He had so many friends, and we all felt like part of his family. He was beloved. His Zinfandel at Chez Panisse, too," said Waters.
Jay Heminway had planned for this day and has left the future of Green & Red in the hands of his daughter, Tobin Heminway. Tobin was born in Berkeley –– she was taught by Alice Waters in Montessori School there –– and she grew up in the vineyards at Green & Red, helping Jay cork early bottles by hand, and more recently working harvests and helping out on the modern bottling line: "My dad is irreplaceable, but his passion for Green & Red lives on. At heart, he was an artist; you see that from the sculpted terraces of Tip Top Vineyard to the hand-crafted door to the wine cave. Green & Red is Jay's finest work, his special touch is in every vine here, and will be in future Green & Red vintages for many decades to come."
Associate Winemaker Mike Penn will step up as Green & Red's second ever Winemaker. Mike worked closely with Jay for four years as Assistant Winemaker and Viticulturist. He came to Green & Red after completing a Master's research thesis at UC Davis on California's heritage Zinfandel selections. His fifteen years of winery and vineyard experience include harvest and vineyard internships at Les Vins de Vienne in Condrieu, France, Domaine Zind-Humbrecht, in Alsace, France, and Ridge Vineyards in Healdsburg, California.
Tobin will also be aided by Pam Heminway, Jay's wife of 34 years, who knows Green & Red like no other, as well as Vineyard Manager of 27 years, Salvador, and his family, who continue to tend the beautiful Chiles Valley Vineyards.
Region:
Napa & Sonoma
Job Function:
Winemaking