Hemsworth Expands to West Coast, Appointing Charlene Peters Managing Partner of New Northern California Office
Posted on June 17, 2019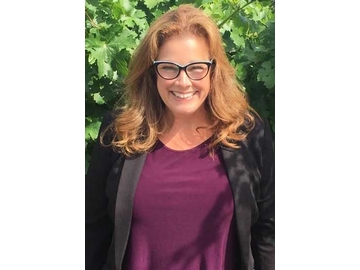 Fort Lauderdale, Fla.—Hemsworth Communications today announced the appointment of veteran food, wine and travel journalist and destination marketing specialist Charlene Peters (pictured) as managing partner. Based in Napa Valley, Peters will oversee the launch of Hemsworth's new Northern California office and will join forces with Charleston, SC-based F&B PR Director Lacey Outten to lead the agency's thriving Food, Wine & Spirits division, which was formalized in 2018 after years of servicing clients within those sectors.
With more than 25 years of food, wine and tourism experience, Peters is an expert content developer and brand strategist. Since 2015, she has served as director of marketing and communications for Visit Calistoga, where she was responsible for brand-building and global destination positioning. In that role, Peters managed media relations, advertising, web development, partner agency communications and integrated marketing campaigns to promote more than 50 wineries in the region. In addition, she drove the destination's digital efforts, managing social media strategy and creating an innovative destination itinerary matching engine.
A native of the Boston area, Peters holds degrees in photography, liberal arts, writing and literature. After working as a Boston-based journalist for many years and spending 15 years authoring the popular "Taste of Travel" newspaper column, she moved to Paris, where she earned her Master of Arts degree in Global Communications from the American University of Paris. While in France, Peters served as president of the Wine Society Club and worked on a global PR campaign for Chateau Margaux winery in Bordeaux, as well as created research-based programs looking at wine tourism geared to the millennial generation, a case study on rosé, and an educational presentation on Champagne and Bordeaux wines.
Peters is a well-connected member of the food and wine community, serving as Board Director for Wine Women and is an active member of PRSA (Bay Area Chapter). She has taught travel writing at Napa Valley College and served as a wine judge for both the San Francisco Chronicle Wine Competition and the Concours Mondial de Bruxelles international competition. Additionally, she held the role of Paris hotel correspondent for Forbes Travel Guide and served as a three-time virtual wine tasting panelist for Tastoria.com, as well as founder and developer of both Spavalous.com and SipTripper.com. Peters is also a regular contributor to Napa Valley Register, Edible Marin & Wine Country magazine, North Bay Bohemian and Pacific Sun, among other publications, and she pens a wine channel on Apple News.
Celebrating its fifth year in business, Hemsworth Communications is an emerging leader within travel, tourism, lifestyle and franchise PR – averaging 65% year-over-year revenue growth since its 2014 launch – with a growing roster of clients within these sectors.
"I am beyond thrilled with this move, as we've had our eye on the West Coast for several years," said Samantha Jacobs, Hemsworth's founder and president, who was named one of South Florida Business Journal's 40 under 40 in 2018. "Having a presence in Northern California will enable us to continue elevating the personal service we provide our existing clients, several of whom are based on the West Coast. This will also perfectly position Hemsworth at the intersection of wine, food and tourism - industries that we are all deeply passionate about and have terrific potential for continued growth."
"Charlene has a phenomenal track record of success as both a journalist and a marketing communications expert, and she shares Hemsworth's vision for creating out-of-the-box campaigns that are easy to execute, while creating truly personal connections with clients, partners and the press," she continued. "We could not have found a better person to partner with in this endeavor, and we are excited to combine our existing food, wine and tourism experience with the knowledge Charlene brings to the table."
About Hemsworth Communications
A dynamic, full-service agency, Hemsworth Communications is one of the fastest-growing, top-ranked agencies in the United States according to O'Dwyer's PR Report and in 2018, was named one of PR News' Top Places to Work, recognized for its unique, forward-thinking company culture. With three distinctive divisions – Travel/Tourism, Food/Wine/Spirits, and Franchising/Business Services – Hemsworth represents fresh, up-and-coming businesses as well as renowned global brands. Services include brand communications strategy, media relations, promotions, guerrilla marketing, social media, thought leadership and event planning. Unlike traditional PR agencies, Hemsworth is dedicated to crafting customized communications programs that are infused with personal, passionate client service and positively contribute to each client's bottom line.
Region:
Florida
Job Function:
President/Owner/GM