Scott Williams Joins Coastal Vineyard Care Associates As Director of Winegrowing Relations
Posted on June 17, 2019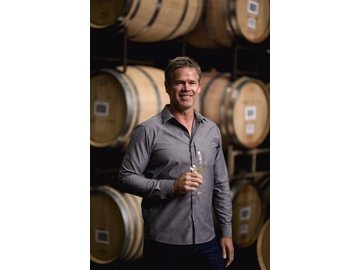 Respected vineyard manager and viticulturist Scott Williams has joined the Coastal Vineyard Care Associates team as Director of Winegrowing Relations. Williams will be working closely with winemakers to better assist them in achieving their creative objectives. "I've long been very interested in working with winemakers. I enjoy going into cellars with our clients, tasting their interpretation of a site, assimilating that knowledge, and then improving approaches in the vineyard accordingly."
Williams grew up around viticulture and wine. His father, Dr. Larry Williams was, for 36 years, Professor of Viticulture and Enology at U.C. Davis. Mark Williams, winemaker at William Hill Winery in the Napa Valley, is Scott's brother. Scott credits his mother with introducing him to the pleasures of fine wine at the table. "My mother and I still taste blind together. She was the one that really got me into assessing and appreciating fine wines, and who compelled me to enter into vineyard management utilizing a more creative approach."

Williams will provide a higher level of service to clients by truly customizing approaches in farming to meet the client's desires. "From biodynamic farming to sustainable farming, from certified organic, to non-certified organic, I will be acting as a conduit between vineyard owners and winemakers purchasing their fruit so
that economic, as well as quality-oriented needs are met."
Williams has an impressive resume that includes his time as Director of Winegrowing and Brand Ambassador at Niven Family Wine Estates. "When you're sitting in front of a distributor or buyer, talking about a vineyard source, you become more aware as a farmer of how important it is to communicate site in a finished
wine. It made me appreciate the vocation of terroir-oriented winemakers." Williams worked as Vineyard Manager for the Pacific Vineyard team, under the guidance of the legendary George Donati. Before that, he was the Viticulturalist for J. Lohr Vineyards and Winery in Paso Robles. He received his Bachelor of Science degree in Botany-Biology at California State University, Fresno and later his Master's Degree in Plant Protection at California Polytechnic State University in San Luis Obispo. "I am very excited about joining the Coastal Vineyard Care team," Williams said. "I've always admired Jeff Newton and the team he has put together in Santa Barbara County.

They farm some of the best vineyard properties around and I'm looking forward to working with both the team and the incredible fruit that comes out of those vineyards. I hope to build new relationships with outside wine producers who purchase fruit from us,
and forge stronger relations with the current ones."
"Scott Williams brings to Coastal Vineyard Care a vast experience in viticulture and vineyard management," said Newton. "Scott's many years working on the Central Coast give him a special understanding of the issues and needs in our local vineyards. He also has extensive contacts in our industry that will be useful in grape sales, business development, and new partnerships. We enthusiastically welcome Scott to the CVCA team," Newton continued.
About Coastal Vineyard Care Associates
Founded in 1983 by Jeff Newton, whom wine critic Robert Parker described as "the guru for great vineyards", Coastal Vineyard Care Associates provides vineyard management, design and installation services for some of the most storied and exciting new vineyards in Santa Barbara wine country.
Region:
Central Coast