Gence Alton Goes Undercover as Curation Chief for The Wine Spies, Sonoma-based Wine Technology Company
Posted on May 17, 2019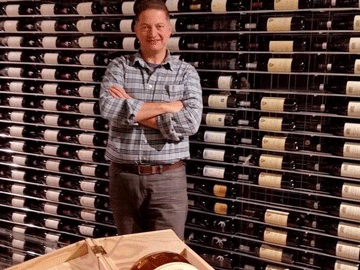 Santa Rosa, Calif.—The Wine Spies is pleased to announce the addition of Gence Alton as the company's new Wine Curation Chief. In this role, Gence, who will be known as "Agent Noir" at The Wine Spies, will be responsible for the selection of the wines that will be offered on winespies.com and the company's additional sales channels.
Agent Noir, a 20+ year wine industry professional and educator, joins The Wine Spies to greatly improve the growing company's curation efforts. Noir holds WSET Diploma in Wine & Spirits which he earned in 2006 with Distinction, a Bachelor of Arts in International Relations, a Master of Science in Food & Beverage Management and is a Master of Wine candidate. He has over a decade of experience in the fine wine business and has an unusually broad appreciation of all wine regions of the world, with an unbiased, independent palate favoring finesse and complexity over intensity and homogeneity.
Wine Spies Founder & CEO, Jason Seeber (known as 'Agent Red'), says of the new hire, "Agent Noir brings an unrivaled depth of experience, industry connections and wine knowledge. Adding Noir to our team enhances our ability to select the best wines for our customers. Noir brings a keen sensibility to his curation – which will make our loyal customers even happier."
"This is a very exciting time to be joining the Wine Spies team, and I am looking forward to applying my knowledge of wine, in order make our selections even stronger. The Wine Spies has always had the reputation of putting its suppliers and its customers first, and I look forward to applying my wine knowhow to further strengthen those bonds," says Agent Noir.
Agent Red says, "The Wine Spies has always made curation – and the quality of our selections – a priority, and the addition of Agent Noir means that every wine that we offer will be the vesy best that we can find. In addition to improving wine selection, 2019 will see The Wine Spies adding new features that will thrill our customers while giving them greater access to more wine, while further improving our services. We even have a few Top Secret projects under development!"
About The Wine Spies
The Wine Spies, founded in 2007, is a wine technology company based in Santa Rosa, California specializing in sourcing premium wines from across the globe, making them available at a remarkable price to wine consumers across the country. More information on the company's notable achievements, services provided, key leadership, or history can be provided upon request.

Region:
Napa & Sonoma
Job Function:
Sales/Marketing