Michael Brughelli Leaves Bien Nacido, Establishes Vignerons Consultancy
Posted on May 08, 2019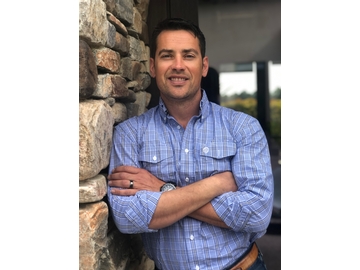 Santa Barbara Country, Calif.—After seven highly successful years at Bien Nacido Vineyards and the Miller Family Company, where he was promoted from Sales Manager to Director of Sales to Director of Supply, Michael Brughelli has struck out on his own, establishing Vignerons. Under his new Vignerons Consultancy, Brughelli will provide expert guidance as a consultant in the areas of high-end grape growing, winemaking, fruit sales, brand management and brand administration. "I've worked with Michael Brughelli for years," says Adam Tolmach, of Ojai Vineyard. "He is organized, timely, efficient, and a pleasure to do business with. Working with him on grape contracts was always straightforward and easy, but where I thought he really shined was when he shared his knowledge about other aspects of the wine business. The breadth of his experience was impressive and his analysis of current trends in vineyards, winemaking, and sales was always astute," Tolmach continued.
During the seven years Brughelli was at Bien Nacido Vineyard, he also established, along with business partner, Mikey Giugni, Scar of the Sea, a dynamic wine and cider brand that gained popularity among the trade and consumers, almost upon its debut. "As a northerner working with Santa Maria fruit for the first time Michael has been a wonderful guide to understanding the intricacies of the region," says Morgan Twain-Peterson MW, and Winemaker/Owner at Bedrock Wine Co. "After only a couple hours in the car with him wandering Bien Nacido I felt steeped in his knowledge about the geologic and social history, maritime influences, underground aquifers, subtle soil differentiations that define not just BNV but the region as a whole. Between his time spending immense hours farming the Ken Volk vineyards (including Enz as far north as Hollister) and his time working with the pantheon of great producers at Bien Nacido, it is clear that he has developed a mastery of the region. His Scar of the Sea wines are an organoleptic manifestation of that knowledge and are among the best I have tasted from California. On top of that, he is just a good dude, which may be the most important thing," he continued.
Brughelli will continue on as Winemaker at Scar of the Sea while he establishes Vignerons, which is set to debut in May of 2019. Harnessing his years of experience as one of the Central Coast's top level executives in fruit and bulk wine sales, Brughelli will consult with a broad range of producers, from small boutique wineries hoping to secure better fruit sources for their wines, to small- and mid-sized brands wanting to improve their winemaking programs, to larger wineries seeking assistance with growing programs. He will also assist vineyards large and small with growing grapes, selling grapes, and marketing their vineyards on the highest of levels.
"Because of my many years working with terrific fruit from the Bien Nacido Vineyard I also had the good fortune to get to know Michael Brughelli," says Manfred Krankl of Sine Qua Non. "He is an intelligent, insightful, competent and engaging man and one rather endearing to work with. Of course he is also a fantastically talented winemaker and his Scar of the Sea wines are delicious and engaging. I feel blessed to be able to call him a friend as he is a first-rate human being and premium professional," Krankl continued.
Brughelli's Vignerons Consultancy will provide services to domestic brands with a focus on California's Central Coast, the Napa Valley and Sonoma.
Region:
Central Coast
Job Function:
President/Owner/GM