Galen Hegarty Joins Ehlers Estate as Hospitality Manager
Posted on March 07, 2019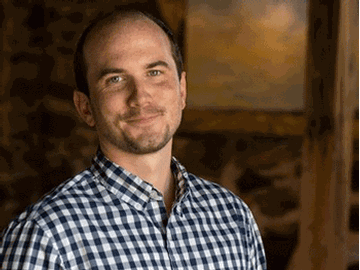 (March 7, 2019; Saint Helena, Calif.)—Ehlers Estate, a 42-acre contiguous organically farmed estate vineyard based in Napa Valley's Saint Helena AVA, is pleased to welcome Galen Hegarty to the winery as hospitality manager.
Galen brings nearly 15 years of hospitality experience to his new role at Ehlers Estate. Most recently, Galen spent six years with Saintsbury Winery in Napa as the director of hospitality.
A Florida native, Galen began his career in Orlando. He spent six years as head waiter and bartender at the Hyatt Regency Grand Cypress and then as an assistant restaurant and outlets manager at The Grand Bohemian Hotel where he was involved with curating the restaurant wine list and planning winemaker dinners.
In his new role, Galen will work closely alongside Winemaker and Director of Operations Laura Díaz Muñoz to implement thoughtful tasting experiences, and continue Ehlers Estate's longstanding commitment to offering bespoke experiences tailored to each guest's interests.
"Ehlers Estate has an unrivaled reputation for offering some of the best hospitality in the Napa Valley, I am looking forward to continuing this tradition with our existing customers, while also curating new relationships with locals and guests alike," says Galen.
About Ehlers Estate:
Ehlers Estate is a picturesque 42-acre vineyard with a stone barn winery dating back to 1886. All of the wines are 100% estate-grown and produced, and the vineyards, which are planted to Bordeaux varietals, are certified organic by the CCOF.
Region:
Napa & Sonoma
Job Function:
Hospitality Manager