The Family Coppola announces the appointment of Allison Westhoven to President of Sales
Posted on March 01, 2019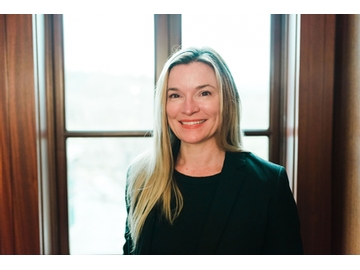 Today, global lifestyle brand The Family Coppola announces the appointment of Allison Westhoven to President of Sales. Westhoven earned her promotion after sixteen years progressing through The Family Coppola sales team while showcasing her ability to achieve profitability-driven goals. In her new role on the executive team, she will bring her passion for, dedication to, and expertise of the wine industry, while overseeing the domestic and international sales teams for The Family Coppola wines, Great Women Spirits and Mammarella Foods as well as all functions of the sales support teams including customer service, trade marketing and analytics. She holds a Bachelor of Science in Hotel Administration from Cornell University, a WSET Level III, and is a Certified Specialist of Wine. As a proven leader who is driven and strategic, she motivates her teams to remain creative, authentic and results-driven while embracing change within the dynamic, evolving wine industry.
"Allison is invaluable to The Family Coppola demonstrating strong relationships with our partners. She started when we had just a six-person sales team and was instrumental in the growth of our entire wine business," says Corey Beck, The Family Coppola CEO & Chief Winemaker. "I am fortunate to have been able to work with her this entire time and we've built a platform of trust that allows us to take strategic risks and remain nimble, which fosters a high-performing culture and focus on innovation."
Westhoven is now among the twelve percent of female sales executives in the wine industry, according to a study in the December 2018 edition of Wine Business Monthly. However, she joins numerous long-tenured female leaders at The Family Coppola.
"When I started in the wine business 20 years ago, it was a male-dominated industry with very few women in leadership positions," says Allison Westhoven. "It was a challenge then to be true to yourself and remain on course to be successful. There was a need to adapt while keeping the balance of your personality and perspective. Joining The Family Coppola felt very different even from the beginning and I knew I had a home here."
In Westhoven's new role she is part of a diverse, progressive team which includes several female executives, including People Operations Executive Vice President Gina Charbonneau, Marketing Executive Vice President Jennifer Leitman, and Direct to Consumer Executive Vice President Janiene Ullrich. Inclusiveness and women's achievement are authentic to The Family Coppola, and it has impacted its business and influenced its culture for more than 40 years.
Westhoven succeeds Wendy Putman, who retired from The Family Coppola after 19 years of invaluable leadership. During her tenure, Putman guided the growth and success of Coppola wine sales, in addition to overseeing two businesses in The Family Coppola portfolio: Mammarella Foods, the organic Italian food brand featuring authentic pastas, sauces and spices with no additives or preservatives; and Great Women Spirits, the award-winning collection of small-batch, house-crafted, and classically-styled gin, vodka and brandy, as unique and remarkable as the women they honor.
Region:
North America
Job Function:
Sales/Marketing