Château Tanunda Appoints Michelle Geber as Managing Director
Posted on June 26, 2018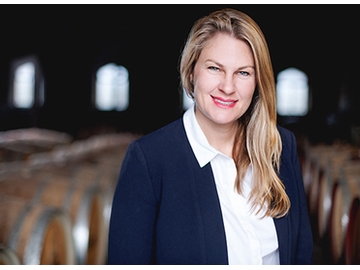 Barossa, South Australia, June 27, 2018 – The Geber Family Group of Companies announces the promotion of Michelle Geber, formerly General Manager of Château Tanunda, to the newly created role of Managing Director, reporting to the board. Geber now heads up of one of the Barossa Valley's oldest and most historically significant properties. Her appointment follows Château Tanunda's latest acquisition of a prime 20-acre vineyard in the Barossa's Vine Vale sub-region, planted with 70-year-old and 148-year-old Shiraz vines.
"Our goal is to increase our "Old Vines" portfolio of rare and collectible wines globally, and with it our emphasis on luxury Australian wines," said Geber of the purchase.
In her new capacity, Geber looks to amplify Château Tanunda's worldwide presence, including the U.S., where the brand debuted in 2010. The estate has added several new sales and marketing positions, to capitalize on export growth, as well as new domestic opportunities. "I am supported by a very able, disciplined and dynamic team," Geber notes. "The Barossa is in growth mode, and Château Tanunda is ideally placed to capitalize on this."
"Our international success is well documented," Geber continued. "After eight years in the U.S., while there's still much to be done, we've come a long way. We are the number one Barossa brand in Russia and Switzerland with our 'Grand Barossa' collection, and we hold leading positions in Germany, Poland, Belgium and elsewhere in the EU. I also look forward to exploring prospects nearer to home, in the Asian markets and Australia, where opportunities for luxury, family-owned Australian wine brands are well known." Geber said.
Geber has been instrumental in several key developments at Château Tanunda, including the February 2018 installation of 218 solar panels over a rooftop area of almost 4,000 square feet, generating some 83,000 KWs of energy a year. Other initiatives include conversion of a couple of century-old stone farmhouses on the estate into luxury visitor accommodations. Château Tanunda and its owners are famed for their hospitality: each year the winery welcomes upward of 100,000 visitors, many arriving via the Barossa Wine Train, which stops right at Cellar Door. Other attractions include a world-class cricket pitch and croquet lawn.
Geber and her family, starting with her father John Geber, are proud custodians of Château Tanunda, a magnificent property, with a winemaking history that spans over 128 years. Starting with its purchase in 1998 by John Geber, Château Tanunda has been the beneficiary of substantial and continuous investment ever since, from a wholesale renovation of the historic winemaking facility, to vineyard acquisitions, now accounting for a total of 740 acres throughout the Barossa, and the launch of Château Tanunda wines in multiple markets worldwide.
Michelle Geber began her career in wine marketing, working for several renowned wine companies, including Banfi Vintners in the U.S. and Chile's Concha y Toro. In 2009 she moved to the U.S. to launch Château Tanunda before returning to Australia in 2012 to take up a sales and marketing role in the family business, focused on developing the Australian, Chinese and European markets, and implementation of the company's luxury wine strategy.
Château Tanunda is imported into the U.S. by AUSA Pacific, a partnership between the Geber family and Jim Lambert, founding owner of Lambert Estate Wines in the Barossa.
Château Tanunda: Established in 1890, Château Tanunda is owned by the Geber family, who continue a tradition of fine winemaking spanning three centuries. On the A-list of Australian wineries, the wines were first introduced to the U.S. in 2010. The white and red wine portfolio includes a range of South Australia-designated wines, the "Grand Barossa" estate wines, and a line of historic "Old Vine" wines.
Region:
Australia
Job Function:
President/Owner/GM