Kristin Marchesi Named President of Montinore Estate
Posted on June 07, 2018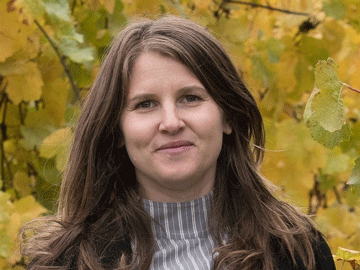 Forest Grove, OR – June 7, 2018 – Montinore Estate, the nation's largest producer of certified estate wines made from Biodynamic® grapes, announces that Kristin Marchesi has been named as the company's new President. Kristin is taking the reins from her father, Rudy Marchesi, who became proprietor of the 200+ acre estate and winery in 2005. As the second generation to lead the company, her new role signifies the company's commitment to upholding their long-standing family vision to Biodynamic® and organic farming, and sustainable winemaking.
In addition to day-to-day operations and management, Kristin is responsible for expanding Montinore Estate's presence as a national leader in sustainably grown and thoughtfully crafted Pinot Noir wines and other cool-climate varietals.
For the past 12 years, Kristin has held various leadership positions at the winery, most recently serving as the general manager. During her tenure, she repositioned the brand, tripled annual revenue and established a robust international export program. In the last two years, the winery realized an 81% growth under Kristin's leadership.
Rudy Marchesi will remain active in Montinore Estate as a Partner. He will continue working alongside Head Winemaker, Stephen Webber, and the winery's new Viticulturist, Karen Peterson, to continue their long-established organic and Biodynamic farming and winemaking practices. Rudy will also continue to actively educate the industry and consumers on Biodynamic vineyard growing practices.
"Working alongside my dad for the last 12 years has been one of the greatest privileges of my life. I now have the opportunity to take what I learned from him and leverage the support of our partners at Ackley Beverage Group to continue Montinore Estate's success in an ever-evolving industry," said Kristin Marchesi.
In 2016, Montinore Estate joined forces with Ackley Beverage Group to provide further growth opportunity. The Seattle-based family investment company provides financial capital and professional resources to premium wine brands throughout the Northwest.
"At a time when so many wineries are losing their legacy, I'm thrilled that Kristin will continue to use her leadership and acumen to carry on our tradition of crafting outstanding wines. We're at the forefront of the fastest growing wine regions in the world and I look forward to watching Kristin carry on the family tradition of land stewardship, organic farming and sustainable winemaking," said Rudy Marchesi.
About Montinore Estate
Montinore Estate was established in 1982 and is now the largest producer of certified estate wines made from Biodynamic® grapes in the country. With a 200-acre Demeter Certified Biodynamic® and Stellar Certified Organic vineyard located in north Willamette Valley in Oregon, they focus on producing superior Pinot Noirs, unique cool climate whites, and fascinating Italian varietals. Montinore Estate's close attention to each step of the grape-growing and winemaking processes is rooted in the belief that exceptional wine is born of a sustained marriage of soil, climate and artful stewardship.

Region:
Northwest, USA
Job Function:
President/Owner/GM