Dunham Cellars Promotes Robert Campisi to Head Winemaker
Posted on May 03, 2018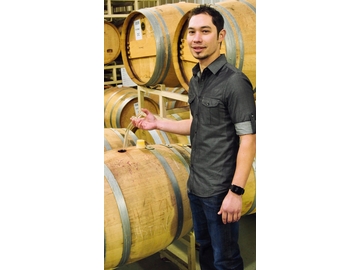 Walla Walla, Wash. – May 3, 2018 – Dunham Cellars, one of Walla Walla's leading family wineries, has promoted Robert Campisi to Head Winemaker. Campisi joined the winery in 2008 and has played a key role in winemaking and will help usher in the development of a new series of wines from Dunham's recently planted Kenny Hill estate vineyard.
A graduate of the University of Washington with degrees in both physics and economics, Campisi originally joined Dunham as a cellar worker. The art and science of winemaking appealed to him, and he quickly became an important member of the winemaking team, working his way through the ranks to Cellar Master before being promoted to Assistant Winemaker in 2012. In his new role, Campisi will oversee all aspects of winemaking operations and work closely with Dunham's Vineyard Manager Ken Hart.
"Rob's long tenure with Dunham and his understanding of Washington State winemaking and grape growing makes him a natural fit for this position," said Dunham Cellars' president John Blair. "He is a talented winemaker with an excellent palate. He also worked alongside founding winemaker Eric Dunham and winery co-founder Michael Dunham and is uniquely positioned to build on the legacy of the winery," Blair said.
"We have a phenomenal cellar crew, access to some of the best grapes in Washington State and state-of-the-art winemaking equipment that supports high-quality wines," Campisi said. "This is my dream job."
Founded in 1995, Dunham Cellars is one of the Walla Walla Valley's earliest bonded wineries. The winery quickly established a reputation for its Cabernet Sauvignon and is also known for its award-winning Chardonnay, Riesling, Syrah, and red blends. Dunham Cellars is located in a World War II airplane hangar adjacent to the Walla Walla Airport that houses the winery's production facility and tasting room. More information is available at dunhamcellars.com.
Campisi lives in Walla Walla with his wife Kristy and son Koa.
Region:
Washington
Job Function:
Winemaking, Cellarmaster/Production