New Additions to our Heringer Estates Family Vineyards & Winery Team
Posted on March 26, 2018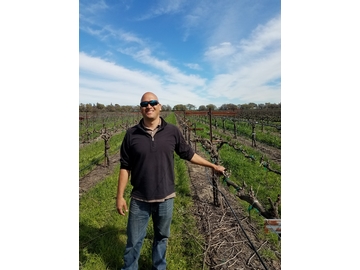 Emiliano Castanon joins us as our new Vineyard Manager & Grape Sales Manager. He has been immersed in the viticulture world in Napa, Lodi, and the Sacramento Delta throughout his career. His background is in vineyard management and grower relations. He is excited to get back to his roots in Yolo County.

We can't wait to see all that our new colleagues accomplish and are excited about the skills they bring. Please join us in welcoming them to the team.
Emiliano will be reachable at vineyards@heringerestates.com.
About Heringer Estates
Heringer Estates is a family owned and operated winery and vineyards established in 2002 after a long tradition of family farming, spanning from the 1880s, in the Clarksburg region. The Heringer family is committed to sustainably managing the winery and vineyards to hand them down in better condition with every generation. Creating an authentic experience and providing high quality products is what drives the family-business forward. Heringer Estates award-winning wines are crafted to reflect the vineyard and regional characteristics of each grape variety to create a sense of place. Learn more at HeringerEstates.com.
Region:
other
Job Function:
Vineyard Management/Viticulture