New Additions to our Heringer Estates Family Vineyards & Winery Team
Posted on March 26, 2018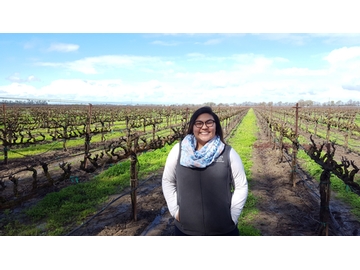 Lizz Castillo joins us as our new Vineyard & Winery Relations Coordinator. She has experience as a tasting room associate in our estate winery as well as in client relations, and a knowledge and background in biological sciences. She discovered Heringer Estates through a goal to further educate herself in the fields of viticulture and oenology. Her background is in biological sciences, customer care, and administration.

Lizz will be taking over the emails grapes@heringerestates.com
About Heringer Estates
Heringer Estates is a family owned and operated winery and vineyards established in 2002 after a long tradition of family farming, spanning from the 1880s, in the Clarksburg region. The Heringer family is committed to sustainably managing the winery and vineyards to hand them down in better condition with every generation. Creating an authentic experience and providing high quality products is what drives the family-business forward. Heringer Estates award-winning wines are crafted to reflect the vineyard and regional characteristics of each grape variety to create a sense of place. Learn more at HeringerEstates.com.
Region:
other
Job Function:
Vineyard Management/Viticulture