The Drop Wine Welcomes Dan Senters as National Sales Director
Posted on February 15, 2018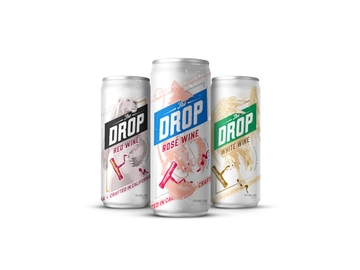 February, 2018, New York - The Drop Wine, the burgeoning canned wine start-up, is proud to
welcome drinks industry veteran Dan Senters as National Sales Director. Senters will help The Drop Wine turn a company with independent accounts in 16 states and tons of promise into a national player by expanding their retail reach and deepening their relationships with distributors.
With more than 25 years of experience including forming and managing accounts with Costco, Trader Joe's and regional players like HEB and Meijer's, Senters understands how to scale brands without losing the magic.
Prior to joining The Drop Wine on February 1st, Senters' was responsible for building the sales and
distribution division for The Infinite Monkey Theorem, the fastest-growing canned wine program in the
United States. In addition to account management expertise, Senters has extensive experience in
operations and distributor management. He joined The Drop team after eyeing their growth over the past 18 months.
"The Drop Wine is a leader in the canned wine industry, from their quality wines to their canning
innovations," Senters says. "I look forward to working with everyone to build a successful brand!"
The Drop Wine, founded in 2016 by 31-year-old Alexis Beechen, boasted sales growth of 300% in 2017 with expansion to 16 states. They source their wine from the award-winning Scotto Cellars in Lodi, Calif.
The fifth-generation winery was recently awarded named a "Top 50 Wineries" by Wine Business Monthly. Through the efforts of a small but dedicated team, The Drop Wine has won national placements with major chains like WholeFoods and Total Wine and they are looking forward to benefiting from Senters' knowledge and know-how.
"We are thrilled that Dan has joined The Drop Wine team," says Beechen. "Dan brings extensive
distribution and national account experience, not to mention his successful sales track record in canned wine. We are so excited to work together to grow this special brand in a dynamic category."

The Drop Wine's 8.5-ounce cans of rosé, red and white are sold in four-packs for $19.99. In spring 2017 they will release keg wine and resealable cans -- next iterations in alternative packaging within the wine space -- as well as a direct-to-consumer wine subscription service.

Region:
New York
Job Function:
Sales/Marketing