Garden Creek Vineyards & Winery Hires Emily Smith as Directed Sales and Marketing Manager
Posted on December 18, 2017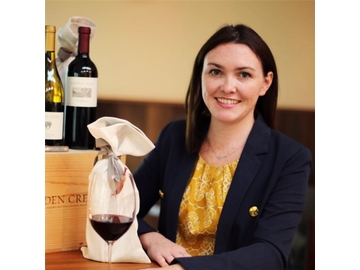 Geyserville, CA. Garden Creek is no stranger to the wine business. Their focus on excellence in all aspects of winegrowing and winemaking began in 1969. EMITH SMITH joins their team at Garden Creek to enhance, develop and deepen the relationship of their direct to consumer brand building, private member relationships and marketing strategies. Emily comes from a strong background in Direct Sales with her greatest time spent at the illustrious Paul Hobbs in Russian River Valley, Quivira Vineyards in Dry Creek Valley and Long Meadow Ranch and Winery in Napa Valley.
Emily Smith says "Garden Creek shares similarities to Paul Hobbs in many ways – a strong believer in crafting wines not only of place and vineyard designation, yet also exquisite brand building and strategic placement in the hands of their private clients. With Justin Miller and Karin Warnelius-Miller, the husband and wife family farmers and winegrowers who have been winegrowers in this region all their lives, their passion and knowledge to fine winegrowing is first-class."
Emily will lead the Direct Sales of Garden Creek Winery of 1,500 cases sold entirely to their discerning Private Members with a current 1-year wait list to acquire wines. The philosophy of crafting wines to age is winemaking which lies in attaining elegance, depth and balance in each vintage. Their current release Garden Creek Cabernet Sauvignon is 7-years aged in barrel and cellar prior to release. Dedication to craft and patience is their foremost goal alongside doing things their way.
About Garden Creek Ranch Vineyards
Garden Creek Rach Vineyards is a family owned ranch, vineyard and winery in the heart of Alexander Valley, of 100-acres of benchland since 1963 with wine grapes planted in 1969. Situated below the illustrious Geyser Peak Mountain, Justin Miller, whose father purchased the property, is known in the wine growing community for his strong commitment to sustainable and organic farming methods since 1995. Winegrowing is focused on Cabernet Sauvignon, Merlot and Chardonnay alongside smaller blocks of Petit Verdot, Malbec and Cabernet Franc with new plantings of Grenache Blanc, Marsanne and Roussanne. Garden Creek winery is the first in California to propose and obtain an entirely sustainable wastewater system and is 100% solar operated. Karin Warnelius-Miller and Justin Miller are the winemakers crafting wines of place and artistic quality. A new vineyard and land acquisition in Anderson Valley, Mendocino County of 160-acres will be focused on cool-climate varietals. The Warnelius-Miller family is dedicated to their family legacy in winegrowing the finest wines possible with their own hands for their own land.


Region:
Central Valley
Job Function:
Sales/Marketing, Marketing