Lesli Hunter named CFO at Matchbook Wine Company
Posted on November 08, 2017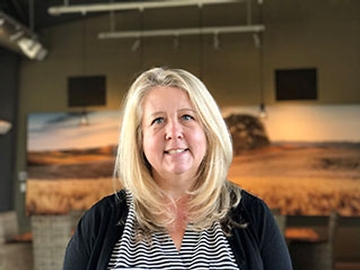 Zamora, CA November 8, 2017 – Matchbook Wine Company is pleased to announce that Lesli Hunter has joined the company as Chief Financial Officer. Lesli comes to Matchbook with 20 years' experience in business finance. She has extensive experience in luxury consumer goods businesses focused on growth. Most recently, Lesli was Vice President of Finance with Tony's Fine Foods.
"At Matchbook, our goal is to grow and to share our wines with new consumers," says John Giguiere, Matchbook Wine Company Founder and Owner. "Lesli's experience with Tony's over the last 15 years makes her a great fit for our growing company. We are excited to welcome her to the Matchbook team."
Family owned Matchbook Wine Company has seen tremendous growth since launching in 2005. As Matchbook continues to grow, Lesli will be responsible for leading the finance team for Matchbook Wine Company. In addition to her finance functions, Lesli will oversee the growing company's IT capabilities as well as lead the Human Resource initiatives.
Lesli understands the unique demands that growing companies face, she was a key member of the team at Tony's helping the company grow by more than 200% over 15 years. She earned a Bachelor's degree in Business Management as well as an MBA in Finance from CSU Sacramento.
"I grew up in the farming community of Linden, CA, so working for a family of 5th generation farmers, is a great match for me," says Lesli Hunter. "I am excited to be a part of building a locally owned family wine company."
About Matchbook Wine Company
East of Napa, Left of Center: Family owned Matchbook Wine Company is tucked away in Northern California's gently rolling Dunnigan Hills. The Giguiere family pioneered grape growing in this region in 1981 when they planted their first vineyard. By 1993, they had succeeded in making the Dunnigan Hills a nationally recognized American Viticultural Area. The Matchbook flame is an homage to the Giguiere brothers' youthful fascination with fire. Today, Matchbook Wine Company produces 110,000 cases and 15 unique wines that showcase the flavor and potential of the Dunnigan Hills AVA. For more information, visit www.matchbookwines.com.
Region:
Napa & Sonoma
Job Function:
President/Owner/GM