Wine By Joe/Dobbes Family Estate Promotes Gretchen Boock to Chief Executive Officer
Posted on November 08, 2017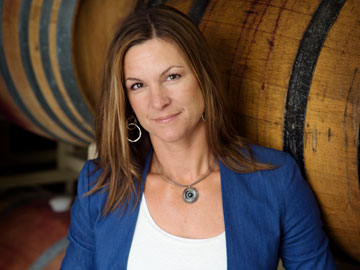 Dundee, Oregon, November 7, 2017 - This year, Wine By Joe / Dobbes Family Estate Winery is celebrating its 15th anniversary, and announces multiple internal promotions, as well as new national sales and marketing initiatives.

Gretchen Boock has been promoted to Chief Executive Officer. Boock has worked in the wine industry for most of her life, putting herself through college working for her parents, building wineries while completing her dual degrees in Ag-Business and Spanish at Oregon State University. Boock was the first employee that winery founder Joe Dobbes hired when the winery opened in 2002.

"After 19 years of working alongside Joe Dobbes, Gretchen is the perfect candidate to continue the momentum Joe started. She has worked in nearly every capacity within the winery over the years and has been instrumental in all aspects of the company's growth and development," commented Sam Bronfman, Managing Partner of Bacchus Capital, Co-Owner of the winery since 2011.

"I'm really proud of what we're accomplishing. It's a cumulative effort by the many talented people we have making up our growing team, and you can really feel the momentum! Soon to hit the shelves is our greatly anticipated and first ever Oregon Bubbles as well as Wine By Joe in cans (Joe to Go). With V2 Wine Group, the sales and marketing company that represents us nationally joining our team this year, we're energized and more motivated than ever," stated Boock.
About Wine By Joe / Dobbes Estate Wine
Founded in 2002, Wine By Joe / Dobbes Family Estate embodies over three decades of fine winemaking. Today, we are one of Oregon's largest producers. By selecting the finest grapes from Seabreeze Vineyard, our 214-acre estate, and from other premier vineyards, we consistently produce expressions of Oregon's truest varietals.
Based in Dundee, Oregon, we are a multi-tiered business with focus on crafting traditional Burgundian style wine under three brands: Dobbes Family Estate, the premier label dedicated to Willamette Valley Pinot Noir, Chardonnay and Rosé as well as Rogue Valley Syrah, Viognier and Grenache Blanc; Wine by Joe, our Oregon appellation label that completely overdelivers in value, offering Pinot Noir, Pinot Gris, Pinot Blanc, Rosé and Chardonnay and finally, Jovino, which provides a Willamette Valley blend of Pinot Noir and Pinot Gris specifically for the fine dining market.
In celebration of its 15th anniversary, throughout the year Wine By Joe / Dobbes Family Estate has been celebrating with special club member dinners, anniversary library flights, and our inaugural release of bubbles. All are invited to join us in the winery's tasting room for flight tastings 11am – 6pm daily.
About Bacchus Capital Management
Bacchus Capital Management is an investment firm providing strategic capital and making equity investments in United States wineries and wine businesses. Current Bacchus portfolio companies are: DeLille Cellars, Madrigal Family Winery, Maritime Wine Trading Collective, Panther Creek Cellars, Sbragia Family Vineyards and Dobbes Family Estate / Wine by Joe. Prior Bacchus portfolio companies are Andretti Winery, Cameron Hughes Wine, and Qupé. For more information, visit www.bacchuswinefund.com


Region:
Northwest, USA