Stephanie Metzler Joins Ancient Peaks Winery as Western Sales Manager
Posted on November 02, 2017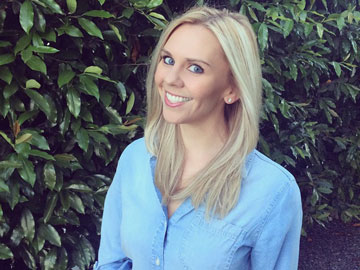 Santa Margarita, CA—Ancient Peaks Winery today announced that Stephanie Metzler has been named Western Sales Manager, a new position covering six states in the Western U.S.
Metzler comes to Ancient Peaks Winery from the San Francisco Wine Exchange, where she worked for the past four years as the west coast sales manager, serving as the primary interface with distributor partners in 12 states. Previously, she served as the domaine and estate sales representative for Glazer's Distributors in Dallas and as the wine director for Cork Wines, also in Dallas.
"Stephanie brings a wealth of western regional experience to Ancient Peaks," said Amanda Wittstrom-Higgins, VP of operations at Ancient Peaks Winery. "Her trade relationships run deep, and she is set to take our brand to the next level here in California and around the western United States."
Metzler's territory for Ancient Peaks will include California, Oregon, Washington, Arizona, Colorado and Idaho.
"This is an innovative brand and my job is to match that innovation in our market approach," Metzler said. "My goal is to inspire and create momentum through every level of distribution, right down to the consumer. It all begins with great wines and strong relationships."
Ancient Peaks Winery's estate Margarita Vineyard is the southernmost vineyard in the Paso Robles region, located just 14 miles from the Pacific Ocean in the Santa Margarita Ranch AVA. The vineyard occupies one of Paso Robles' coolest growing environments and spans a rare diversity of soils, resulting in wines that are known for their rich flavors, inherent balance and vivid sense of place.
"As we grow and expand, it is increasingly important to have someone who can call on all of our western region distributors," said Kristin Muhly, the winery's national brand manager. "This has created a need for someone with Stephanie's skill set and experience, and we are excited about what she will accomplish across the region."
Ancient Peaks is a family-owned winery specializing in wines from our sustainably farmed estate Margarita Vineyard in Paso Robles on California's Central Coast. Margarita Vineyard stands alone as the southernmost vineyard in the Paso Robles AVA, nestled into the rugged Santa Lucia Mountain Range just 14 miles from the Pacific Ocean. The name Ancient Peaks honors the tall peaks surrounding Margarita Vineyard, which were forged by the collision of the coastal plates. Over time, these same geologic forces blessed us with five distinct soil zones—ancient sea bed, rocky alluvium, shale, volcanic and granitic—that bring natural complexity to our wines. Our tasting room is located in Santa Margarita. Visit www.AncientPeaks.com for more information.
Region:
Central Coast
Job Function:
Sales/Marketing