Jeremiah Timm Joins Frank Family Vineyards as Assistant Winemaker
Posted on October 03, 2017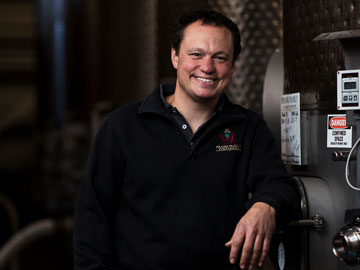 Rich and Leslie Frank, owners of Frank Family Vineyards, along with Winemaker and General Manager Todd Graff, are pleased to announce that Jeremiah Timm has joined the winery as assistant winemaker. In his new role at Frank Family Vineyards, Timm will work closely alongside Todd Graff to craft the winery's diverse portfolio of estate-driven wines.

A Wisconsin native, Timm brings more than 15 years of wine industry experience to Frank Family Vineyards. After spending eight years working as a vineyard and winery assistant at Wisconsin-based Wollersheim Winery & Distillery, he moved to California and received a Bachelor's of Science in Enology from Fresno State University. He then spent the 2008 harvest as an intern at the iconic Sonoma County Pinot Noir producer, Kosta Browne Winery, followed by nearly two years working as enologist and cellar manager at Russian River Valley-based Moshin Vineyards. Most recently, Timm spent seven years at Kosta Browne advancing from enologist, to assistant winemaker, to director of winery operations.

"Jeremiah's deep understanding and passion for every aspect of the winemaking process makes him the ideal fit for our close-knit production and winemaking team," says Graff. "His experience in various aspects of the winemaking world, from cellar and winery operations to winemaking, will be paramount to Frank Family as we continue to grow our estate-driven wine program."

Region:
Napa & Sonoma
Job Function:
Winemaking