Vinventions Team Announces Addition of Pedro Pereira, Sr. Wine Quality Solutions & Sustainability Manager
Posted on September 18, 2017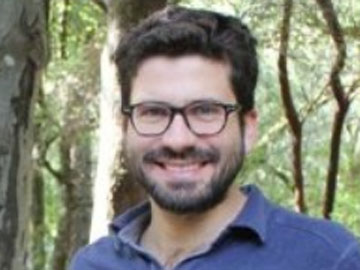 Napa, CA (Sept. 18, 2017) — Vinventions, the global leader in complete wine closure solutions and parent company of Nomacorc (PlantCorcs) and Ohlinger (natural corks, screwcaps), has announced the addition of a new member to the North American Sales Team. Pedro Pereira has joined the company as Senior Wine Quality Solutions & Sustainability Manager, based out of Northern California.
"We're thrilled to have Pedro come onboard as part of our team," says Mark Coleman, Vice President of Sales and Marketing, Americas, at Vinventions. "With his impressive background in the industry working directly with wineries and extensive knowledge of wine quality issues, Pedro will be an invaluable asset to our customers and our team in the Americas for enology support and sustainability initiatives."
Prior to joining Vinventions, Pereira was Cellar Master at Donkey & Goat, the well-known producer of natural wines based out of Berkeley. A native of Portugal, Pereira studied Viticulture & Enology at Universidade do Porto and holds a degree in microbiology from Universidade Catolica Portuguesa. He also studied Leadership in Sustainability and Environmental Management at the University of California.
Pereira comes to Vinventions with additional prior experience at Nomacorc, Vinventions' PlantCorc company, in Thimister, Belgium, where he was an Environmental Research Specialist specializing in LCA (life-cycle assessment) benchmarking of different wine closures, sustainability in packaging, and promoting and supporting sustainability strategies within the wine industry.
Pereira will continue his work driving sustainability programs in the Americas and support the Wine Quality Solutions services offered by Vinventions globally.
About VINVENTIONS
Vinventions was created in 2015 by family entrepreneur Marc Noël together with Bespoke Capital Partners, Heino Freudenberg and further partners. Vinventions' mission is to be the most innovative and most trusted global supplier of complete wine closure solutions to the still and sparkling wine industries. Since January 2015, Vinventions has acquired Nomacorc, Ohlinger Group and Syntek Bouchage and has created strategic partnerships with industry leaders such as Preciosa (glass crystals) and Cork Supply (natural cork). This led to the creation of Vinventions' "House of 7 Brands," and its Complete Wine Closure Solutions, which encompass Nomacorc (PlantCorcs), Syntek (synthetics), Ohlinger (natural corks), Vintop (screwcaps) and Vinolok (glass closures) as well as Wine Quality Solutions (oenological services and analyzers) and Wine Marketing Solutions (marketing services and wine consumer insights). Today, Vinventions employs over 550 associates globally and operates seven production sites in USA, Belgium, Germany, France, Argentina, South Africa and China. Vinventions protects every eighth wine bottle worldwide with its closure solutions, making it the second largest wine closure supplier worldwide with strong organic sales growth in 2017. The leadership values of Vinventions are based on customer proximity, innovation, local entrepreneurship, open teamwork, sustainability and long-term responsibility. Find out more at www.vinventions.com.
Region:
California, USA