Geralyn Brostrom has been named Director of Trade and Student Relations at the Napa Valley Wine Academy
Posted on September 07, 2017
Geralyn Brostrom has been named Director of Trade and Student Relations at the Napa Valley Wine Academy (NVWA) effective September 1, according to an announcement by partners and school founders Christian Oggenfuss and Catherine Bugué. "We are so thrilled to have Geralyn join our team at this crucial point in our growth trajectory as we continue to expand across the country," comments Oggenfuss. "Geralyn's extensive knowledge of the industry combined with her background in education makes her a perfect fit for our organization," he adds.

In this newly created position, Brostrom will be responsible for liaising with the trade to customize professional programs to meet their training and education needs. A former vice president with importer/distributor Winebow and most recently co-developer of the Italian Wine Professional (IWP) certification program, Brostrom has worked in just about every segment of the industry. "She's a natural for this position, thanks to her deep knowledge of how the industry works and the fact that she knows people all around the world," adds Oggenfuss. At NVWA, she will work with large and small wine industry businesses to help them boost their employees' expertise, confidence and sales through wine education.

In addition to her corporate responsibilities, Geralyn will also advise individual students, helping them choose the best option to fit their needs from among the Academy's extensive catalogue of certification and continuing education offerings. "As the former executive director of the Society of Wine Educators, Geralyn is superbly qualified to counsel students," notes Bugué, the Academy's director of education.

"We have been working with the Napa Valley Wine Academy to help us grow the online IWP program over the last three years, and their commitment to excellence in education and their overall work ethic are standout attributes," Brostrom explains. "By end of September, we expect to have more than 250 certified IWPs, and the success of that program is due in large part to the efforts of the NVWA. This affiliation comes at the perfect time. The day-to-day management of the IWP program will be taken in-house at the Academy and I'll still be able to be involved in and oversee its growth in the marketplace." Brostrom adds that everything will remain the same with the Italian Wine Central website.

"We have a responsibility to our students to make sure that we elevate the quality of wine education to the level that they deserve," Oggenfuss continues. "We do this by providing the best designed courses that offer them the opportunity to elevate their careers in the wine industry on a professional level."

During a recent conversation, Ian Harris, CEO of the WSET, had this to say about the value of professional wine and spirits education: "WSET has carried out several studies into the value of training and certifications in general (and WSET qualifications in particular) – not only to businesses, but also to individuals. These studies have proved that not only does education contribute to increased profit for businesses (by enhancing employees' ability to trade customers up to an increased level of spend on wine) but we also have many instances where WSET qualifications are cited as a major contributing factor behind industry personnel gaining promotions and career progression within their businesses."

Alongside her role as trade and student liaison, she will continue to teach courses as needed as part of the NVWA faculty. Brostrom, who has an MBA in Marketing and holds several wine industry credentials including the CWE, the IWP, and WSET Level III, focused on teaching early in her career, before her professional activities migrated into the wine arena. This position at NVWA brings her full circle, back to her her passion for education, but applied to a much wider segment of the industry. Brostrom also teaches in the wine business programs at Sonoma State University and at the Culinary Institute of America at Greystone. "I recognize that it is not often that one is offered an opportunity like this—to combine myriad skills and experience to help wine businesses grow—while working with an exceptional group of people," Brostrom says. "I feel very lucky!"

"We operate at a level of professionalism that is unparalleled in the wine education arena," Oggenfuss adds. "This is because of our extremely talented team, a collaborative group of highly qualified people who are committed to the growth of the wine industry in general," he said.

ABOUT THE NAPA VALLEY WINE ACADEMY
The Napa Valley Wine Academy was awarded the coveted Wine & Spirit Education Trust's Global Educator of the Year award at the annual WSET awards ceremony in London's Guild Hall in January 2017. Napa Valley Wine Academy was chosen for this honor out of the WSET's extensive network of 650+ Approved Program Providers in over 73 countries.

The Napa Valley Wine Academy has its roots in America's best-known wine-producing region—its namesake Napa Valley—but has expanded nationwide and now offers courses in Florida, Colorado, Ohio, Tennessee, Santa Barbara (CA) and Las Vegas (NV). The Academy headquarters are at 2501 Oak Street, Napa, CA, 94559.

Wine classes include those for enthusiasts such as Wine 101 as well as numerous certification courses for beginners through advanced students. The Academy is an Approved Program Provider with The Wine & Spirit Education Trust in London. Napa Valley Wine Academy also offers its own curriculum of programs developed in-house, including The American Wine Expert, SommDay School, a tasting and service sommelier class with Master Sommelier Tim Gaiser and a sensory analysis course based on the industry standard kit, Le Nez du Vin. Additional professional certifications the NVWA offers include the Italian Wine Professional, French Wine Scholar and Certified Specialist of Wine. In addition, the Academy also has a robust offering of online courses that students can take no matter what their location.

ABOUT WSET
The Wine & Spirit Education Trust, often referred to as WSET, is a London-based organization which arranges courses and exams in the field of wine and spirits. WSET provides best-in-class education and qualifications to inspire and empower the world's wine and spirits professionals and enthusiasts. WSET currently offers nine qualifications covering wines, spirits and sake. WSET qualifications are globally recognized as the international standard in wine and spirit knowledge. They are designed for those who are just starting out in their careers, as well as established professionals, and the many enthusiasts who have a passion for wines and spirits. In the last academic year over 72,000 candidates sat a WSET exam in 73 countries.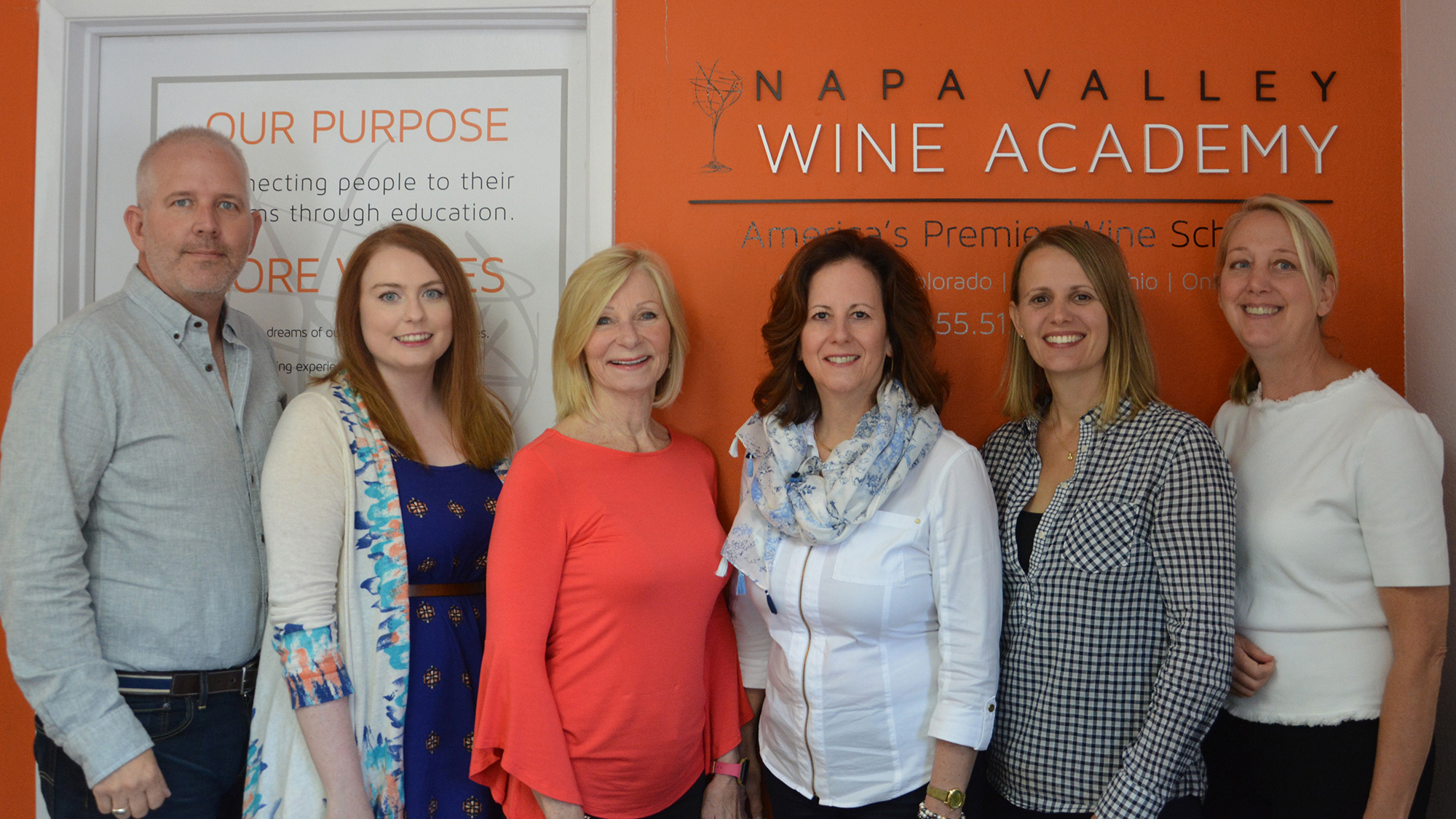 The Napa Valley Wine Academy team stands in front of the wall at the entrance to their office: from l to r: Christian Oggenfuss, co-founder and CEO; Janet Kampen, Student Advisor; MaryAnn Hanley, Education Center Manager; Geralyn Brostrom, Director of Trade and Student Relations; Amy Oggenfuss, Education Coordinator and Catherine Bugué, co-founder and Director of Education.

Job Function:
Sales/Marketing