Dobbes Appoints Travis Proctor Production Winemaker
Posted on August 12, 2015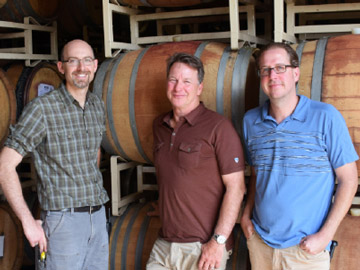 Dundee, Oregon, August 12, 2015: Travis Proctor has been appointed Production Winemaker at Dobbes Family Estate Winery / Wine by Joe and Andy McVay has been promoted to Associate Winemaker for Dundee Vintners, the custom winemaking arm of the company. Several employees have also been added and promoted across Dobbes' marketing, sales and hospitality fronts. Lauren Barnes has been promoted to Marketing Director, Kristen Rice added as Marketing Coordinator, Michele Dupont has been named Direct & On-Premise Sales Manager, and Matt Daley and Paxton Roy have been appointed Tasting Room Supervisors.
"We are growing in all directions, and I am exceptionally proud of all that we're accomplishing," commented Joe Dobbes, Founder, President and Director of Winemaking & Viticulture. "Travis has extensive winemaking and production experience, and is a great addition to our team. Andy, who has been with us since 2008, will support him as well as have responsibility for our important custom winemaking business. Overall, our wines continue to evolve, our portfolio continues to build and we are pleased that our base of both consumers and trade is growing steadily."
"We've been fortunate to find talented people in key areas of growth and opportunity for us," added Gretchen Boock, COO of Dobbes and Wine by Joe. "In many cases, individuals have grown with us over time, and that is particularly rewarding. I am so proud of our team."
"Joe's and Gretchen's history and leadership in the Oregon wine industry and their focus on people are reflected in the momentum at Dobbes and Wine by Joe today," noted Sam Bronfman, Cofounder and Managing Partner of Bacchus Capital. "The talent and passion of the team supporting great wine offers a very bright future."
About Dobbes Family Estate / Wine by Joe
Joe Dobbes, an Oregon native, has built a thriving business by combining knowledge gained through apprenticeships in France and Germany and the experience of nearly 30 years of winemaking. In 2002 Dobbes launched Wine by Joe, a multi-tiered business based in Dundee, Oregon. Recognized for the elegance and craft of his wines, Dobbes is now one of the largest producers in Oregon with 214 acres of estate vineyards. While an industry leader in custom winemaking and bulk wine production, Dobbes' focus is on crafting traditional Burgundian style wine under his three different brands: Dobbes Family Estate, the luxury Pinot Noir label; Wine by Joe, a value-priced Oregon appellation label, and Jovino, an offering available on-premise. Dobbes Estate / Wine by Joe is a Bacchus Capital Management portfolio company.
For more information, visit: www.joedobbeswines.com
About Bacchus Capital Management
Bacchus Capital Management is an investment firm providing strategic capital and making equity investments in United States wineries and wine businesses. Current Bacchus portfolio companies are DeLille Cellars, Madrigal Family Winery, Maritime Wine Trading Collective, Panther Creek Cellars, Sbragia Family Vineyards, Dobbes Family Estate / Wine by Joe. Prior Bacchus portfolio companies are Andretti Winery, Cameron Hughes Wine, and Qupé.
For more information, visit www.bacchuswinefund.com
Region:
Northwest, USA
Job Function:
Winemaking