Sagemoor Vineyards Adds Lacey Lybeck to Vineyard Management Team
Posted on June 22, 2015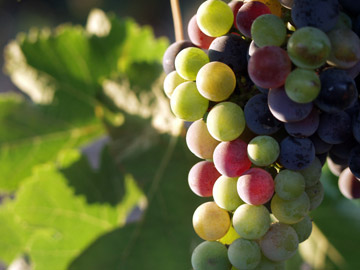 Pasco, Washington, June 22, 2015--Sagemoor Vineyards announced the hiring of Lacey Lybeck to our Vineyard Management team. Lacey will transition into the role of Vineyard Manager, replacing long time Vineyard Manager Derek Way; who will be leaving in August for preparation to move to China for work in the wine industry and foster professional development of university students.
"I am immensely grateful for my time at Sagemoor" said Derek. "I could not have imagined a more fulfilling experience. I will miss the day to day interactions with coworkers and customers, but plan to stay engaged with the Washington State wine industry."
Sagemoor Vineyards, comprised of Bacchus, Dionysus, Weinbau and Sagemoor was founded in 1968 and planted vineyards starting in 1972. Old vine own-rooted Cabernet Sauvignon, White Riesling and Sauvignon Blanc are still producing high quality fruit from those plantings. The customer base is very diverse from large wineries to boutique. Many wineries are producing vineyard designated wines.
Kent Waliser, Director of Vineyard Operations said "Sagemoor will be forever appreciative of the contribution Derek Way has made to the continued legacy of the vineyards. He has demonstrated leadership with employees, dedication to improve the vineyards and gained the confidence of winemakers to provide the best possible grapes and service. We wish Derek and his family success in their new adventure."
Beginning July 1, Lacey will be joining Sagemoor Vineyards to learn from Derek and the rest of the team before assuming full-time Vineyard Management responsibility in August. Lacey joins Sagemoor after working at St. Michelle Wine Estates and Milbrandt Vineyards, both highly regarded companies in the Washington wine industry. She will be focused on continuing the goals of Sagemoor to provide the best possible wine grapes to 80 wineries.
Lacey said, "I am thrilled to join the Sagemoor team and learn from Derek Way during this transition. It is an honor to continue the legacy of Bacchus, Dionysus, Weinbau and Sagemoor vineyard. I look forward to continuing the work by Derek and many others who have built the prestige of Sagemoor Vineyards. The opportunity to work with Kent, Allan Bros. as well as Miguel Rodriguez and Servando Rodriguez as we produce impeccable wine grapes for world class winemakers is fantastic."
Allan Bros. of Naches, WA purchased the Sagemoor Group in May of 2014 after 45 years of ownership by the original families. Since the 1920's, Allan Bros. has been growing, packing and shipping premium tree fruits. Their entry into the wine grape industry in 2014 extends their family legacy of providing premium products grown in Eastern Washington to consumers all over the world.
According to Miles Kohl, CEO at Allan Bros., "We put great effort into hiring the type of people who will drive our vision of providing world class produce to our customers; Lacey Lybeck is that type of person. We have complete confidence the team of Kent Waliser and Lacey Lybeck will continue to expand the role of Sagemoor Vineyards in the premium Washington wine industry."

Region:
Northwest, USA
Job Function:
Vineyard Management/Viticulture