Mary McDermott Joins Township 7 Vineyards & Winery As Winemaker
Posted on August 25, 2014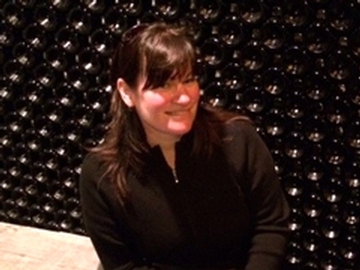 NARAMATA BENCH, BC – AUGUST 25, 2014 – Township 7 Vineyards & Winery is delighted to announce Mary McDermott as the winery's new winemaker. Mary joins Township 7 from Trius Winery at Hillebrand and Thirty Bench Winery, which are Peller Estates premium Niagara wine brands. Township 7 Vineyards & Winery has two locations in British Columbia, on the celebrated Naramata Bench and in picturesque south Langley. The winery has a built a reputation for its small production wines that reflect the unique elegance and character of the Naramata Bench and boldness of the south Okanagan's Black Sage Bench.
"We are just about quality wine and Mary has demonstrated her prowess in producing excellent wines from a variety of classic vinifera grapes in often very challenging growing conditions," said Mike Raffan, general manager, Township 7 Vineyards & Winery. "She's a rising star with impeccable credentials and
extensive expertise in premium wines. She'll be a great fit for ramping up our 7 Stars Sparkling Wine program. Her relentless focus on continuous improvement will help steer us as we evolve in the coming months, particularly with her plans to enhance our Bordeaux reds program at a world-class level."
Her winemaking finesse is backed by the accolades to prove it. Many of her wines have achieved national and international acclaim, including numerous gold medals. Most recently the Chardonnays were honoured at the All Canadian Wine Awards 2014, Decanter World Wine Awards 2014, International Wine & Spirits Competition 2014, L.A.
"I'm thrilled to start working within a tight knit community and pursue my lifelong dream of crafting small production wines in the Okanagan Valley. I feel like all the stars have aligned to bring me the opportunity to work on the prestigious Naramata Bench at Township 7," said Mary McDermott, winemaker, Township 7 Vineyards & Winery. "It's exciting to fully leverage everything I've learned in my winemaking skillset over the years and combine that with the fresh and creative approach of the west coast. I believe this can really make a positive impact at an up-and-coming winery like Township 7."
Mary's first fully realized her passion for wine on Canada's west coast as Sommelier at the popular Monk McQueen's Fresh Seafood & Oyster Bar. This was shortly followed by a return home to the Niagara region to expand her wine expertise with a Bachelor of Science in oenology and viticulture at Brock University's prestigious winemaking program. Obtaining her first taste of winemaking, she landed at Niagara-on-the-Lake's celebrated Stratus Vineyards as cellarhand and then assistant cellarmaster at Cave Spring Cellars. Soon thereafter in 2010, Mary joined Niagara's premier winery family, Peller Estates premium wineries; Trius Winery at Hillebrand and Thirty Bench. As winemaker, her responsibilities covered the gamut of skills from directing cellar staff, to monitoring vineyards, supervising the facility, to public relations, to her favourite roll of actually crafting fine wine. One of her largest roles was in their sparkling wine program, where she was responsible for Canada's most extensive production of premium sparkling wines, overseeing everything from managing grapes on the crush pad to the tirage and disgorging.
At Township 7, Mary's vision for the winery entails boosting the sparkling wine production and expanding the small lot, fine wine program with additional single vineyard designate offerings, where she will be working closely with the viticulture team on the estate vineyards and with their long time growers on the Black Sage Bench, in Okanagan Falls, and in the Similkameen Valley. In the cellar she will augment the premium oak barrel program with upgrades to large oak barrique fermenters for the 2014 harvest. With more improvements planned in the vineyard and winery on the horizon.
Founded in 2000, the winery has had two previous award-winning winemakers; Michael Bartier and Bradley Cooper. Club SEVEN members, friends and guests are invited to meet our new winemaker. Join Mary at Township 7's Naramata Bench winery at several upcoming events including: the Anniversary Party on September 7 and "Be a Winemaker": Meritage Barrel Blending Seminars Oct. 4 and 11th, or at the south Langley winery's annual Grape Stomp on October 26. More details are available at www.township7.com/events.
About Township 7 Vineyards & Winery
We have a singular focus. It's just about quality wine and nothing else! No trinkets, no shoes, no food, just wine. We believe premium winemaking starts in the vineyard. We carefully select specific sites throughout the south Okanagan for their unique characteristics. Our fine wines reflect the special terroir of each vineyard and this is expressed in the bold flavours of the wine. Handcrafted to cellar, we hope you enjoy our robust reds and aromatic whites with loved ones. www.township7.com
Region:
British Columbia
Job Function:
Winemaking