Asimont of Francis Ford Coppola Winery Confirmed as ASEV President
Posted on July 15, 2014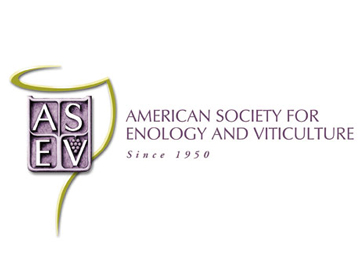 Davis, CA, July 15, 2014…The American Society for Enology and Viticulture (ASEV) Board has confirmed Lise Asimont as the 2014-2015 president. Asimont, director of grower relations at the Francis Ford Coppola Winery, succeeds Dr. James Kennedy of California State University, Fresno, to lead ASEV's 12-member board.
"I'm honored to serve ASEV, an organization that does extraordinary work for wineries, grape growers and researchers alike," Asimont said. "I hope to build upon my predecessors' progress while bringing a distinct perspective to the table that represents our member's interests."
Asimont has been an active member of ASEV since 2001 and has served on the Board of Directors, a wide range of committees including the National Conference program committee in the past four years. She is a member of the Unified Wine & Grape Symposium Program Development Committee, moderated grape growing sessions at the symposium in 2010 and 2012 and was a recent speaker. Additionally, she serves as a member of the Santa Rosa Junior College Shone Farm Viticulture Advisory Board and is the newly selected recipient of the 2014 Sonoma County Harvest Fair's Outstanding Young Person in Agribusiness Award.
Asimont joined the winemaking team at the Francis Ford Coppola Winery in 2006 and has helped to develop their North Coast and Central Coast wine programs. She is responsible for the 60 acres of vineyards surrounding their two winery facilities, as well as the sourcing of grapes from outside growers and the implementation of fish-friendly, bee-friendly and sustainability certifications. She has over fifteen years of experience as a viticulturist in the wine industry and says she's looking forward to working with the talented ASEV Board of Directors.
ASEV has also confirmed three new directors: Kay Bogart and Anita Oberholster of the University of California, Davis, and Drew Johnson of Linked Vineyards.
In addition, the Society has announced its other 2014-2015 executive team members: Mark Greenspan of Advance Viticulture, Inc. was confirmed to serve as first vice president; Nichola Hall of Scott Laboratories was elected as second vice president; and James Harbertson of Washington State University continues to serve as secretary-treasurer. Additional board members continuing current terms are: AJEV science editor Linda Bisson and technical program director M. Andrew Walker, both of the University of California, Davis; and directors Kristen Barnhisel of Inglenook, and Tom Collins and Hildegarde Heymann also both of the University of California, Davis.
Formed in 1950 as a professional society dedicated to the interests of enologists, viticulturists and others in the fields of wine and grape research and production, the ASEV's membership of more than 2,100 includes professionals from wineries, vineyards, and academic institutions and organizations. For more information, visit www.asev.org.
Region:
USA
Job Function:
President/Owner/GM