Obituary: Frank Woods, Clos du Bois Founder
Posted on May 13, 2014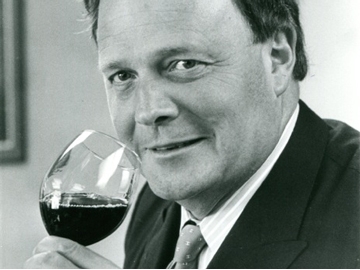 Frank Montgomery Woods Jr. engaged life with enthusiasm. He was an active member of the Bohemian Club, The Pacific-Union Club, the California Tennis Club, the Guardsmen and San Francisco Golf Club. Frank was a passionate bridge player and a student of the game. In the last few years, he had been working on an extensive compilation of bridge notes, which he shared with his bridge partners and interested friends.
Frank's life began 81 years ago, in Chattanooga, Tennessee, the eldest son of Josephine Roberts Woods and Frank Montgomery Woods. He spent his childhood in Birmingham, Alabama, and Nashville, Tennessee, then earned his bachelor's degree from Cornell University ('50-'54), in the School of Hotel Administration. He was a member of the Sigma Phi fraternity.
Following graduation, Frank served in Korea. He was a U.S. Army Second Lieutenant in charge of a quartermaster depot. In 1956, Frank joined the advertising and marketing department of Proctor & Gamble in Cincinnati, Ohio. After five years at P&G, Frank moved to the Bay Area to launch his own company, Marketing Continental, with his friend, Edward Eyre. An entrepreneur at heart, Frank's company was instrumental in developing and introducing products such as the Pine Mountain Log, Tiger's Milk (a predecessor of Carnation Instant Breakfast), and the Shell No-Pest Strip, which, at its height, was the largest selling insecticide in the United States. In the late 1960s and early 1970s, Frank, together with Cornell classmate Tom Reed, helped to develop and market the Four Seasons Ski Resort in Breckenridge, Colorado.
In 1961, Frank met Kay Harrigan and they married in Mobile, Alabama, a year later. They lived in San Francisco and Healdsburg, and raised three children: Dorine Woods Towle (Griff), Frank Montgomery Woods (Anne Robinson) and Alexis Woods (Daniel Donahoe). They have six grandchildren: Spencer and Audrey Towle, Thea and Keira Donahoe, Ella and Montgomery Woods.
Frank is survived by his brother, Bill Woods (Deborah Freedman), and his sister, Rhoda Reyner. His brother, Joseph Woods, predeceased him.
During the 1960s and 70's Frank was deeply involved in politics. Although a registered Republican, in 1966 he was tapped to be Chairman of Ronald Reagan's "Democrats for Reagan" gubernatorial campaign in Northern California. "They needed somebody to get all the Democrats on board," Frank once said of his role. "I guess I just enjoyed dealing with people of a different persuasion." In 1968, Reagan tapped Frank again, putting him in charge of 11 southern states, where he was responsible for securing delegates for the Miami convention. Reagan ultimately lost that election to Richard Nixon, but asked Frank to work on his 1970 gubernatorial campaign. Around the same time, Frank was appointed to the California State Personnel Board, where he served as President until 1980.
In the early 1970s, Frank began his notable career in the wine business. In 1974, he co-founded the award-winning Clos du Bois winery in Sonoma County with Tom Reed. Reed and Frank purchased vineyard property outside of Healdsburg, California in the Alexander Valley along the Russian River. From the beginning, Clos du Bois was a wine designed to be as consumer friendly as an American wine and as elegant as a French wine, a combination that was unheard of at the time. Frank's marketing skills were innovative for the wine business and he quickly built Clos du Bois into a premium California wine. After tremendous success with the label, the winery was sold to a large wine and spirits company in the late 1980s. Since that time, he has continued to produce wine grapes in the Dry Creek Valley near Healdsburg.
Frank became an advocate for the American wine industry, especially for Sonoma County. Over the years Frank was chairman of the Wine Institute, chairman of the American participation in the International Organization of Viticulturalists (OIV), and was on the boards of the Fine Arts Museums of San Francisco, the Young Audiences of San Francisco, and the L.S.B. Leakey Foundation. In addition, he was a consultant to the wine industries in Bulgaria, Slovenia and Hungary under an agricultural project of the United States government. Frank also represented the US in various international wine negotiations with NAFTA and dealings with GATT in Geneva.
Frank was also very active in the family's forest products business, Scotch Plywood Company, which operates in Alabama and Mississippi. For many years Frank was a member of the Scotch Board of Directors.
Frank Woods passed away on Thursday, May 8, in San Francisco. There will be a memorial service for Frank on Monday, May 19 at 3:00pm at Grace Cathedral. In lieu of flowers, the Woods family requests that remembrances to the deceased be sent to: Gladstone Foundation,1650 Owens Street, San Francisco, CA 94158; or KIPP Bay Area Schools, 1404 Franklin Street Suite 500, Oakland, CA 94612; or UCSF Diabetes Teaching Center, UCSF Foundation, Lock Box 45339, San Francisco, CA 94145.
Region:
Napa & Sonoma
Job Function:
President/Owner/GM