Hawks View Cellars Introduces New Winemaker, Adam Lee of Siduri
Posted on January 06, 2014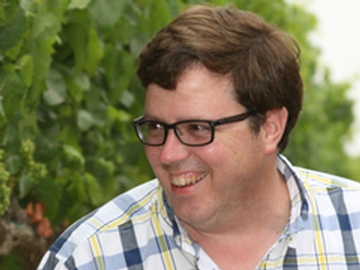 Hawks View Cellars appointed celebrated Adam Lee as lead winemaker of Oregon's premier private winery producing award-winning wines from selected grape growing regions spanning the West Coast. A.J. Kemp, owner of Hawks View Cellars, sought out Lee for his expertise and knowledge as displayed by the highly esteemed winery Siduri that Lee owns with his wife Dianna.
Lee and Kemp are thrilled to be working together to create wines under the Hawks View label. Just as Hawks View sources pinnacle varietals from the best vineyards of elite growing regions along the West Coast to create their wines, Lee has been sourcing grapes from the Hawks View vineyard since the mid 1990s for his own label. Kemp first met Lee at a vineyard walk during Kemps maiden vintage at Hawks View in 2003 and was at once impressed by Lee's ability to navigate vintage variability with exceptional flexibility. Year in, and year out, even though based in California, Lee was the winemaker who visited Hawks View most often.
"At a base level, Hawks Views' winemaking is buoyed by a deep connection with our estate, and it is fitting to join forces with Adam, who has been here since the first picking," says Kemp.
Adam Lee was raised in Austin, Texas as a Southern Baptist and thus never drank alcohol growing up. He attended Trinity University in San Antonio, Texas (where he started drinking—although wine was not usually the drink of choice) and graduated in 1987 with a bachelor's degree in History. His first job out of college was as a clerk at a wine store, Austin Wine & Spirits, which happened to be a hotbed of wine sales as well as the sponsor of the local Les Amis du Vin chapter where he was able to taste some of the great wines of the world. Lee worked his way up to president of Austin Wine & Spirits then later became a wine buyer for Neiman Marcus in Dallas where he first met his wife Dianna Novy. With the belief that they could become winemakers and make their own Pinot Noir, they left their families and jobs in Texas and moved to California's Sonoma wine country. They spent several years working at small, family owned wineries, using any and all free time to learn everything they could about growing grapes and making wine. In 1994, they launched Siduri Wines with their first release, which was met with great critical success and led them to search for additional high quality Pinot Noir grapes. Today, Siduri produces top rated single vineyard Pinot Noir from 20 different vineyards stretching from Santa Barbara north to Oregon's Willamette Valley. In December 2013, Lee became winemaker of Hawks View Cellars, an Oregon-based winery that produces award-winning wines from elite grape growing regions spanning the entire West Coast of the United States, including over eight single vineyard varietal wines.
The induction of Lee also highlights the recent launch of Hawks View Cellars' highly inventive and risk-taking Cellar Series, a limited release series of wines that are pioneering new methods of winemaking using innovative techniques that affect the flavor profile of the wine and show great creativity. A recent release form the series is Hawks View's 2011 California Syrah which underwent over 24 months of extended barrel aging in the world's finest French Oak, as well as the highly acclaimed 2012 White Pinot Noir from Hawks View Estate Vineyard playfully called "The Unicorn." Coming soon from the Hawks View Cellar Series is an exceptional Malbec and a 100% Petit Verdot, a percent grape usually reserved for French blends. Incorporating his own experience into this already groundbreaking series and in other Hawks View signature wines, Lee will begin crafting blends in 2014.
About Hawks View Cellars
Hawk View Cellars is Oregon's premier private winery producing award-winning wines from select grape growing regions spanning the entire West Coast of the United States. Hawks View crafts over eight single vineyard varietal wines infused with the terroir driven style of Burgundy. Hawks View's 50-acre Oregon Estate vineyard of Pinot Noir and Pinot Gris has been sustainably farmed since its inception in 1991. The Estate facility offers both private and corporate entities the opportunity to host events, interact with vineyard and winery staff, and develop a lasting relationship from vintage to vintage. Owned and tended by the native Oregonian Kemp family since 2003, Hawks View Cellars embodies the deeply personal experience of Pacific Northwest winemaking. Find out more by visiting www.hawksviewcellars.com or by following Hawks View on Twitter @HawksViewWines and Facebook.
Region:
Oregon
Job Function:
Winemaking