Botran Rums Promotes Frank Quiñones to Managing Director
Posted on November 26, 2013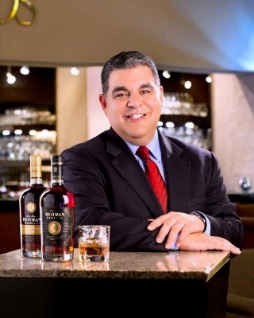 Industrias Licoreras de Guatemala announced the promotion of Frank Quiñones to managing director. Quiñones has been with the company for four years, starting as regional director, then being promoted to global commercial director, and now managing director for ILG's international business. In his new role, Quiñones will increase his scope of work from principally building distribution network for Rones Añejos Botran and growing global brand recognition to now an increasingly managerial role managing the international division of the company.
Roberto Fernando García Botrán, chairman and CEO of Industrias Licoreras de Guatemala, which created and crafts Botran Rums, says: "We are a family-owned company that values loyalty and a long-term view; you can see this in our unwavering commitment to making fine, aged rums, as well as in our commercial practices. Frank lives this credo, and has developed relationships that have allowed our brand to expand globally very rapidly over the last three years. We are looking forward to his continued contributions."
Quiñones graduated from Inter-American University of Puerto Rico with a degree in business administration and finance, and went on to American Intercontinental University where he obtained a bachelor's degree in international business and management. Quiñones has made a career in the spirits industry, with more than 25 years of experience, covering finance, purchasing, logistics, supply chain, business and brand development in domestic and travel retail markets around the world.
Married to his high school sweetheart, with two grown daughters, Quiñones lives in south Florida and enjoys golf, traveling and reading.
About Botran Aged Rums from Guatemala
In the mid-20th century, five Botrán brothers—Venancio, Andrés, Felipe, Jesús and Alejandro—emigrated from Burgos, Spain to settle in Guatemala, subsequently founding Industrias Licoreras de Guatemala. Over time, they created and perfected a unique method of rum production that combines European traditions—such as the Spanish Solera aging system—with local traditions, including distillation know-how handed down from the Mayans. The family has continued to produce high quality rums from generation to generation.
Since the 1950s, the Botrán family has been devoted to maintaining Botran Aged Rums and supporting their local community; in 2012, these rums were awarded the Geographic Indication for Rones de Guatemala, underscoring their strong sense of place and meticulous production methods. Still family-owned Industrias Licoreras de Guatemala is the largest of the three distilling companies operating in Guatemala.
Job Function:
President/Owner/GM