Summerhill Pyramid Winery Appoints Willem Semmelink as Vineyard Manager
Posted on March 27, 2013

Summerhill Pyramid Winery is pleased to introduce Willem Semmelink as its new vineyard manager. Semmelink brings to Summerhill his deep commitment to community and ecology, and a desire to continually improve Summerhill's vineyards for optimal quality and sustainability.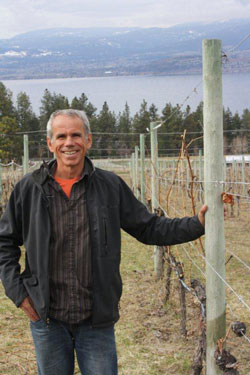 Having lived in South Africa since childhood, Semmelink is a graduate of the University of Cape Town. In his career to date, he has made a career in organic and biodynamic agriculture, notably as the orchardist, agroforestry developer, house parent and financial manager of a Camphill Community (a biodynamic farm and assisted living community for special-needs adults), and as the farm manager of a 189-hectare poly-cultural organic farm within the Wellington District of South Africa's premier wine growing Coastal Region.
Semmelink has had the opportunity to work as a sustainable business planner, a rural development project leader, and as an agricultural consultant, helping to develop sustainable and organic vineyard management regimes in South Africa.
Semmelink came to Canada in 2008, in his own words, "... to learn northern hemisphere sustainable agriculture techniques and promote low input farming. This region is ripe for development into a truly sustainable industry, and I wanted to be here to make a contribution to that development".
About Summerhill Pyramid Winery:
Summerhill Pyramid Winery, located for more than 20 years in the Lakeshore district in Kelowna, BC, is Canada's premier certified organic winery, BC's first Demeter certified biodynamic vineyard, and Canada's foremost producer of sparkling wine.
Region:
British Columbia
Job Function:
Vineyard Management/Viticulture