Dan Rodrigues to Address Central Coast Water Management at WiVi 2013
Posted on March 15, 2013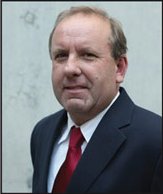 Dan Rodrigues, president of Vina Quest LLC will discuss water management of grapes on the Central Coast in "From Roots to Shoots: Getting Back to the Basics," a viticulture breakout session at WiVi Central Coast, held in Paso Robles March 19-20. In this session moderated by Central Coast plant physiologist, Lowell Zelinski, Ph.D., you'll hear industry experts explore everything from matching rootstocks to a specific site to how to manage your canopy to create the right growing environment for your winegrapes. Walker joins Mark Greenspan of Advanced Viticulture, LLC and Andy Walker of UC Davis in the panel discussion. Seminar tickets are available for advance purchase at www.wivicentralcoast.com.
Rodrigues has more than 26 years of viticulture experience on the Central Coast consulting for vineyards throughout Monterey, San Luis Obispo and Santa Barbara counties. He began his career in agriculture on his family's farm in the Central Valley where the Rodrigues family has been farming since the early 1900's. His wine production experience started when he joined San Bernabe Vineyard in Monterey County as the lead viticulturist in 1988, followed by two decades as the viticulturist for California Ag Quest. Rodrigues recently launched his own vineyard consulting firm, Paso Robles-based Vina Quest. His background includes a master's degree from California Polytechnic University, San Luis Obispo, where he is also a lecturer in the Wine & Viticulture Department. He has Pest Control Advisor and Certified Crop Advisor licenses, and is currently the president of the Central Coast Wine Grower's Association. He also serves on the American Vineyard Foundation Industry Review Committee and the Paso Robles High School Ag Advisory Committee.
About WiVi Central Coast 2013
California's Central Coast is quickly becoming one of the world's most popular and celebrated wine regions. Since December 2009, 95 new wineries popped up in the Monterey, San Benito, San Luis Obispo, Santa Barbara and Santa Cruz counties. In 2012, nearly 7 million cases of wine were produced in the region. This burgeoning area faces many unique issues in its wine-growing and winemaking efforts, and WiVi Central Coast 2013, a new symposium and trade show hosted by Wine Business Monthly and Precision Ag Consulting, has been created to address those topics.
WiVi will be held March 19-20, 2013 at the Paso Robles Event Center in Paso Robles, California. It is the only trade show and symposium to address the issues facing the Central Coast wine industry, one of the fastest growing regions in the country. For more information, visit www.wivicentralcoast.com.

Region:
Central Coast
Job Function:
President/Owner/GM