Jerry Lohr to Lead Review of California University Enology Programs at WiVi Central Coast 2013
Posted on February 27, 2013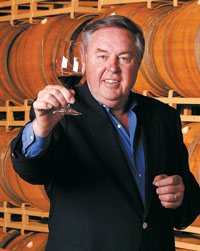 Wine industry icon and staunch advocate of wine education Jerry Lohr, will bring together three professors from the leading California university viticulture and enology programs at WiVi Central Coast 2013, held in Paso Robles, March 19-20. The panel discussion will mark the first time department chairs and professors gather to discuss the latest research and the benefits of the university system for the wine industry. James Kennedy, Ph.D., professor and chair of the Department of Viticulture and Enology at California State University, Fresno; Jim Cooper, Ph.D., director of the Wine and Viticulture Program at Cal Polytechnic University, San Luis Obispo; and David Block, professor for the Department of Viticulture and Enology at University of California, Davis will sit on the panel.
Lohr is the founder and proprietor of J. Lohr Vineyards. In the 1960s, he opened a land development and custom home building business, but his passion and appreciation of wine led him into an extensive investigation of grape-growing regions in California. He selected the Arroyo Seco region of Monterey County for his first vineyard in 1971, understanding the full importance of climate, soil quality and location. Lohr was also among the first to realize the promise of the Paso Robles area and planted Cabernet Sauvignon, Merlot and other red varieties in the area in 1986.
Respected universally by his peers for his intimate understanding of California winegrowing, Jerry's knowledge on the subject is vast. An industry leader and one of the few remaining substantial independents, Jerry is a fervent advocate for the Arroyo Seco region of Monterey County and Paso Robles, regularly investing his energy and resources to champion these regions. Over the course of his career, Jerry has served as founding director, four-time president, and chair of the marketing committee of the Monterey County Vintners and Growers' Association. He has also served as director and chair of the marketing committee for the Paso Robles Vintners and Growers Association. In 2007, UC Davis honored Jerry with its Award of Distinction, and in 2008 he was named Wine Industry Person of the Year by the Paso Robles Wine Country Alliance.
About WiVi Central Coast 2013
California's Central Coast is quickly becoming one of the world's most popular and celebrated wine regions. Since December 2009, 95 new wineries popped up in the Monterey, San Benito, San Luis Obispo, Santa Barbara and Santa Cruz counties. In 2012, nearly 7 million cases of wine were produced in the region. This burgeoning area faces many unique issues in its wine-growing and winemaking efforts, and WiVi Central Coast 2013, a new symposium and trade show hosted by Wine Business Monthly and Precision Ag Consulting, has been created to address those topics.
WiVi will be held March 19-20, 2013 at the Paso Robles Event Center in Paso Robles, California. It is the only trade show and symposium to address the issues facing the Central Coast wine industry, one of the fastest growing regions in the country. For more information, visit www.wivicentralcoast.com.
Region:
Central Coast
Job Function:
President/Owner/GM