Ben Drake Receives CAWG Leader of the Year Award
Posted on February 01, 2013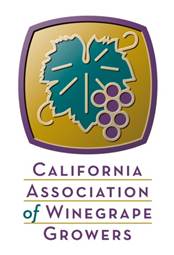 The California Association of Winegrape Growers (CAWG) recognized Ben Drake, president of Drake Enterprises, Inc., in Temecula, as the 2013 CAWG Leader of the Year. The award is presented to the grower whose personal commitment and record of leadership has benefitted California's wine industry. Drake is the second recipient of the award created by CAWG to acknowledge exemplary industry members and to inspire future leadership.
"Ben is a forward-thinking leader who has provided consistent leadership for the winegrape industry," said Bill Pauli, chair of CAWG. "Ben is continuously taking on challenges and issues confronting winegrape growers not just in his community, but throughout the state. We're all better off because of his positive attitude and leadership."
A resident of the Temecula area for 40 years, Drake is president of Drake Enterprises, Inc., a farm management company specializing in the development, maintenance and marketing of winegrapes and avocados in southern Riverside and northern San Diego counties. He earned his bachelor of science degree from Fresno State and is a graduate of the California Agricultural Leadership Program.
Drake's leadership skills were put to the test in the late 1990s when Temecula winegrape growers faced a looming threat from the glassy-winged sharpshooter and Pierce's disease, a bacterial blight that nearly wiped out Temecula's wine industry.
"Ben took a leading role in getting the word out about the serious threat to our livelihoods from Pierce's disease," said Michael Tingley, vice president of winery operations at Danza Del Sol Winery in Temecula. "His grassroots leadership efforts helped mobilize the state to action, and soon after there were task forces, treatment programs, and a comprehensive research agenda against the insect and the disease. I consider Ben to be the leading grower expert on Pierce's disease in this state."
"Temecula Valley Wine Country is still here and, in fact, thriving because of his efforts," said Nicholas Palumbo, president of the Temecula Valley Winegrowers Association and owner of Palumbo Family Vineyards and Winery in Temecula. "If there is one man in this area that saved us, it's Ben."
The fight against Pierce's disease in Temecula benefitted the entire California wine industry as state agencies and research sources came together not only to battle the problem in Temecula Valley, but also shed new light on disease treatment and control.
With the benefit of Drake's guidance, the Temecula region rebounded with new vineyards, new trellising and hardier clones better suited to the area's warm days and cool nights. Always looking for the silver lining in any difficulty or challenge, Drake's response after the Pierce's disease peril was positive and simple when he said, "It gave us an opportunity to make improvements."
For his leadership role in helping to protect and preserve Temecula Valley's winegrape crop from Pierce's disease, Drake received an Award of Excellence from the U.S. Department of Agriculture.
Drake's record of leadership covers a wide span, including president of the California Water District Board of Directors, past chairman and board member of the California Association of Winegrape Growers, past president and board member of the Riverside County Farm Bureau, past president and board member of the Temecula Valley Winegrape Growers Association, member of the Chancellor's Agricultural Advisory Council at UC Riverside, and member of the Agricultural Leadership Association.
His leadership also extends statewide with his appointment by former Governor Schwarzenegger in 2010 to the California State Board of Food and Agriculture, and previously as chairman of the California Pierce's Disease/Glassy-Winged Sharpshooter Board and Task Force.
In 2010, Drake was honored with the Robert M. Howie Award given by the Riverside County Farm Bureau for outstanding service to Riverside County agriculture.
A fifth generation farmer in Riverside County, Drake manages 750 acres of avocadoes and 325 acres of winegrapes in Temecula Valley. He, and wife Sharon, have four children and three grandchildren. His son-in-law, JD Harkey, helps with the business.
"Those who know Ben will tell you about his positive attitude, about his ability to adapt quickly to the changes in our industry, and about his knowledge on anything to do with vines, water, insects, soil, whatever," said Claudio Ponte, owner and operator of Ponte Family Estate Winery in Temecula . "But most of all, they will tell you that Ben Drake is a good man."
CAWG's Leader of the Year award was presented at the association's Annual Meeting and Awards of Excellence reception on Jan. 29, 2013, in Sacramento.
Region:
California, USA
Job Function:
President/Owner/GM