Napa Vintners Appoint Cyndy Pellegrin to Represent Trade Group in Canada
Posted on November 14, 2012

The Napa Valley Vintners (NVV), the nonprofit trade association of 435 Napa Valley wineries, announced that Cyndy Pellegrin has been retained to represent the association in Canada. The NVV has been directly marketing the appellation in Canada for more than 15 years, and since it represents the largest export market for California wine, the trade group moved to have year-round, in-market representation.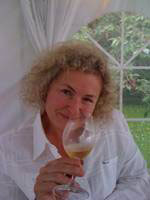 Pellegrin brings many years of experience in the wine industry, most recently as a wine director/buyer in Vancouver, where she was instrumental in developing and launching several wine-based retail stores and tasting bars. Along with a Sommelier Diploma from the International Sommelier Guild, she also teaches the Wine and Spirits Education Trust (WSET) curriculum.
"Though a Vancouver native, Cyndy lived in California for many years and her first-hand knowledge of the Napa Valley will be a great asset to our promotional efforts throughout Canada," said Linda Reiff, NVV's executive director. "With this new position we look forward to continuing to develop brand awareness of the Napa Valley appellation and its wines in this key market."
This year-round, in-market office complements similar NVV international efforts and offices already in place in the UK, Japan and China.
The Napa Valley Vintners is the nonprofit trade association responsible for promoting and protecting the Napa Valley appellation as the premier winegrowing region. From seven founding members in 1944, today the association represents 435 Napa Valley wineries and collectively is a leader in the worldwide wine industry. To learn more about the region and its legendary American wines, visit www.napavintners.com.

Regions:
Napa & Sonoma; Canada