Congressman Thompson Focuses on Climate Change at UC Davis Presentation
Addressing an audience of UC Davis viticulture and enology students and faculty and local wine industry members in an appearance on campus last week, Congressman Mike Thompson (D-Napa) expressed optimism that Congress will finally address climate change and global warming issues, that could have significant impacts on agriculture and the wine industry. Thompson appeared as part of the UCD Walt Klenz Lecture Series, created and sponsored by Foster's Wine Estates in honor of the former Beringer Vineyards CEO.

Thompson has been a member of the House of Representatives since 1998, representing California's 1st Congressional District that covers much of the North Coast wine country including the counties of Napa, Lake, Mendocino, Humboldt, Del Norte, and parts of Sonoma and Yolo. He previously served as a California State Senator. He grew up in the wine business in St. Helena, was formerly employed as a maintenance supervisor for Beringer Vineyards, and he owns a small vineyard in Napa County that he farms organically and sells grapes to Fetzer Vineyards for its Bonterra label.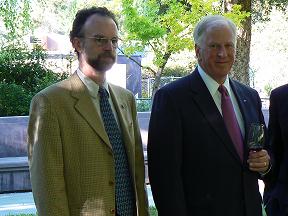 UCD Department of Viticulture & Enology Interim Chair Andrew Waterhouse (left) and Congressman Mike Thompson at a reception following the Congressman's talk at UCD.

Thompson called climate change "a fairly politically-charged issue" and acknowledged that Congress "has been behind the curve" in confronting the issue. Expressing his own opinion he said, "I think it's something we need to be concerned about, I think it's very real, and we need to work on it." He cited a study by the Intergovernmental Panel on Climate Change, a consensus report prepared and endorsed by hundreds of scientists from around the world that concluded that climate change will have a very drastic effect on world agriculture. The report also said there is 100% certainty that climate change will increase pest problems.

Regarding the political climate, Thompson believes a confluence of factors have created a "tipping point" that is forcing Congress to focus attention on the issue, such as new congressional members and leadership, regulatory actions by several individual states including California, the recent Supreme Court ruling that greenhouse gases meet the definition of pollutants, Al Gore's Oscar-winning film on the subject, and public attention on the issue. He cited recent polls indicating that 85% of Americans now believe climate change is real, as do 90% of the constituents in his congressional district.

As evidence of the new attitude of the new Congress, Thompson said, "In the first three months of this congressional session, 17 new bills were introduced on the issue, and in January, the House voted to rescind $14 billion in tax breaks for oil drillers." In addition, House Speaker Nancy Pelosi (D-San Francisco)created a new House Select Committee on Energy Independence and Global Warming that held 10 comittee hearings on climate change in the first three months of the session. Five bills in the current session deal with carbon cap amounts and trade credits, and Senator Diane Feinstein has introduced a fuel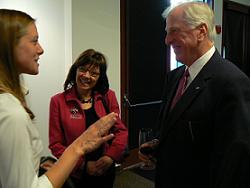 (L-R) Kendra Baumgartner of the USDA Agricultural Research Service, CAWG President Karen Ross, and Congressman Mike Thompson discuss issues at a reception following the Congressman's talk at UCD.



economy bill requiring a new standard of 35 mpg for all vehicles by 2019. "Congress is moving in a new direction, and we'll also see this in the farm bill that is up for renewal this year that should have grants and incentives for ethanol producers, alternative fuels, and fuel conservation," Thompson said.

He also cited the wine industry's efforts in sustainable farming practices, the use of energy audits and energy efficiency measures in wineries, and the many wineries that have converted to solar power in recent years. He praised current Wine Institute president Paul Dolan's efforts to educate the industry and public about global warming, and his past work at Fetzer to make it a leader in organic viticulture and environmentally-conscious business practices. Thompson observed, "Growers and vintners are very resourceful, and I think they can respond to any challenge. The wine industry is one of the leaders in responding to climate change." He added, "I'm very optimistic about the wine industry and very optimistic about dealing with the challenge of climate change." Regarding congressional action, he said, "We should have started sooner, but I think we're in pretty good shape to move forward on the issue now."

Thompson is co-founder and co-chair, along with California Congressman George Radanovich (R-Mariposa), of the Congressional Wine Caucus, that now has more than 200 members, representing all 50 states.

Thompson briefly discussed several other wine industry issues that are being addressed in Congress:
Pierce's disease and the glassy-winged sharpshooter: Efforts by the Congressional Wine Caucus to educate members have helped provide $176 million in federal funding for PD control programs in recent years.
Immigration reform legislation: Thompson said, "This will involve increased border security, and we need a comprehensive policy with a guest worker program. This has been a hard sell for members who are not from agricultural locations, and there is a lot of education that needs to be done."
Land conservation/ag easements: Thompson is co-author of a current bill to permanently extend tax credits to farmers and ranchers who donate development rights to local land trusts in the form of conservation easements.
Truth in labeling to protect geographic place names for U.S. wines sold throughout the world.

Thompson recognized Foster's Wine Estates for sponsoring his appearance and the lecture series, saying he was honored to appear due to his and his family's affiliations with Beringer Vineyards, and the opportunity it provides to educate viticulture and enology students. "Sharing knowledge between the generations in the wine industry, this is important," he said.