Louis J. Foppiano, Sonoma County Wine Industry Legend And Patriarch To Five Generations, Passed Away At Age 101
He became a great pioneer of Sonoma County's wine industry
March 26, 2012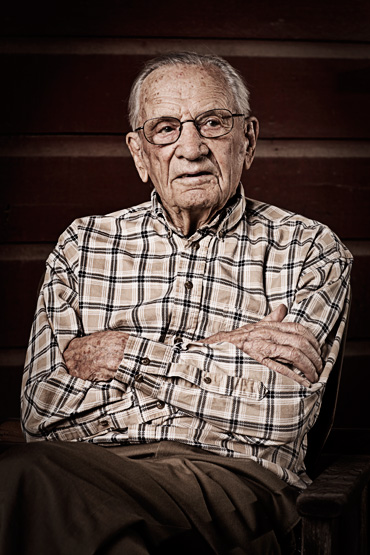 Healdsburg, CA – Louis J. Foppiano, vineyard farmer and patriarch of Sonoma County's oldest winemaking family, passed away at 8:15 p.m. Friday, March 23rd at Sutter Hospital in Santa Rosa, California. He was 101.
Outspoken and friendly, Louis J. Foppiano was always a farmer at heart. Born on November 25, 1910 on the very farm where he lived and worked his whole life, Foppiano was dedicated to his family, his 169 acre vineyard in the Russian River Valley of Sonoma County, and to his passion for wine. He became a great pioneer of Sonoma County's wine industry. He was a founding member of the Sonoma County Wine Growers Association in 1946 and he was its first president. Foppiano was also a founding member of the Wine Institute, where he remained a director for 45 years, and is known for his love of and devotion to the development of Petite Sirah.
Louis J. Foppiano was also known for his friendship, sportsmanship and love for life. "He may have been one of the wine industry's great pioneers of our time, but he was also an athlete who played football and basketball in his youth, had passion for flying which included regular fishing trips to Canada and vacations to Mexico. He was an avid hunter, horseback rider and member of the Sonoma County Trailblazers," said Louis M. Foppiano, of his father. "In business, he was well known for being a tough negotiator, but in life you could find him enjoying a cigar with his friends, most of whom were also sons of Italian immigrants and in the wine business. He was very well liked by his peers and a friend to all," he continued.
In 1946, Louis J. married the late Della Bastoni of Santa Rosa. The couple was married for 56 years, and raised three children, Louis M., Rod (who passed away from leukemia in 1984), and Susan.
Until his death, Lou's greatest joys continued to reflect his love for family and the wine business. Often one could find him pruning in the vineyard, visiting with guests in the winery tasting room, marking the weather on a calendar in the office in true farmer style, or playing with his great granddaughter Gianna, the sixth generation of the Foppiano clan.
A longtime member of St. John the Baptist Catholic Church in Healdsburg, Louis is survived by his son, Louis M. Foppiano, daughter Susan Foppiano Valera, four grandchildren: Paul Foppiano (Rod's son), Gina Foppiano (Rod's daughter), James and Joseph Valera (Susan's sons), and two great granddaughters (Gianna Ann Foppiano, Paul's daughter and Joy Marie Hocker, Gina's daughter).
Details on the Memorial service will follow. Contributions in his honor may be made to St. John the Baptist Catholic School, 208 Matheson St., Healdsburg 95448.
Historical Background
Louis J. Foppiano's grandfather, Giovanni Foppiano, immigrated to the United States, arriving in New York from Genoa, Italy, and traveled to California by way of Panama looking for gold. In 1864, Giovanni settled in Healdsburg, California. His son, Louis A. Foppiano was born in 1877 (father of Louis J.). Louis A. married Mathilda, the sister of one of his North Beach customers after three "arranged" dates. Louis A. founded the family winery in 1896. When Louis A. passed away in 1924, Louis J., along with his two sisters Rosalind and Norma inherited the responsibility of managing the family winery. In 1937, after the repeal of prohibition, Louis J. rebuilt the winery from the ground up, and Foppiano Wine Company became one of the first Sonoma County wineries to bottle wine under its own winery label.
About Foppiano Vineyards
For over one hundred years, the Foppiano family has been involved in the American wine industry from their home ranch in Sonoma County's Russian River Valley. Today, winemaker Natalie West works closely with vineyard manager Paul Foppiano to create estate wines reflecting the family's commitment to quality and hard work. Wines include Sauvignon Blanc, Chardonnay, Pinot Noir and its well-regarded Petite Sirah, as well as the new Lot 96 Sonoma County Petite Sirah. The 100-year history of Foppiano Vineyards confirms that through the strength of the family and a commitment to such quality, tradition can be maintained and can thrive. For more information, call 707-433-7272, or visit www.foppiano.com