Preliminary 2011 California Grape Crush Report
California Crushes 3.34 Million Tons of Wine Grapes in 2011 (Updated)
February 13, 2012
The preliminary 2011 California Grape Crush Report realeased by the California Department of Food and Agriculture shows that 3.34 million tons of wine grapes were crushed during the 2011 harvest. This is down 6.9 percent from 2010. Average wine grape prices rose 9.5 percent statewide.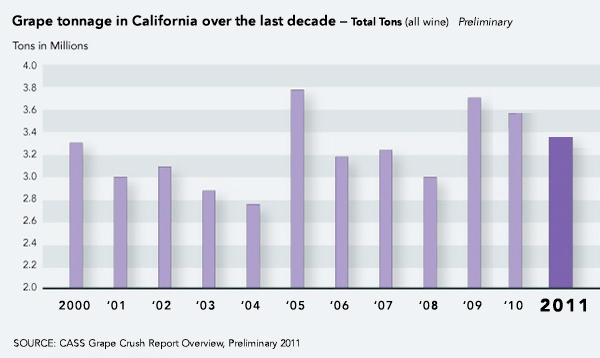 "The crop was a little bigger than we expected but we see the demand in this market—and the change in buyers looking for supply in the last six months has been extremely fast," said Glenn Procter of the Ciatti Company. "This is something I haven't seen in my history where we went from a long and balanced market to a short market this quickly. The question is: where does that go forward? Will the consumer put a lid on it or do we need more supply? The thing is how fast the market has changed in the last six months to 12 months."
In a press release discussing the report, Turrentine Brokerage President and Partner Steve Fredricks stated that, "Even though the crop in total was equal to the 5-year average, the key fact is that it was far short of demand. Consumer sales continue to grow, and wineries would have liked to have crushed hundreds of thousands of additional tons."
As expected, red varietals continued to form the larger share of all grapes crushed, at 1.9 million tons or 57.3 percent of all wine grapes, however this is down 6.5 percent from the previous year.
In Sonoma County, the average price for grapes was $2,081.12 per ton, up 3 percent.
Grapes from Napa County, the perennial price leader, had an average price of $3,407.56 per ton, up 5 percent from 2010.
The Chardonnay harvest was 14.9 percent smaller than in 2010, but accounted for 16.7 percent of all wine grapes crushed. If table and raisin grapes are included, Chardonnay accounted for 14.4 percent of the tonnage for all grapes harvested.
Sauvignon Blanc was down 23.4 percent.
Cabernet Sauvignon was down 14.0 percent.
Merlot was down 8.0 percent.
Pinot Noir was up 15.1 percent.
Zinfandel was down 12.5 percent.
Total Muscat production for wine, which includes Muscat Blanc, Orange Muscat and Muscat of Alexandria but excludes Symphony as well as the Table and Raisin Muscat varieties, was 91,112.3 tons, up 5.9 percent from 85,748.6 tons in 2010. These varieties now account for 2.4 percent of all grapes.
The Thompson Seedless harvest was up 35.4 percent. Although classed as a raisin variety, Thompson Seedless grapes are used for raisin, table grapes, concentrate and wine production so the relative production levels are usually more significant than are generally supposed.
In discussing the various varietals, Steve Fredricks cited the decreases in Chardonnay and Zinfandel as being particularly significant. "Chardonnay is a very important number. A key district, Monterey, District 7, down by 27, is a big number. Monterey, 6 million gallons worth equivalent—of all Central Coast Chardonnay, it's equivalent to about 4 million cases fewer than the previous year.
"I think the fact that Cabernet Sauvignon was down 15 percent is a very important number but it was what people were prepared for. That Zinfandel was down 25 percent in Lodi is important, because it impacts both red and white Zinfandel production, in District 12 down 37 percent, something that is a key wine and some of the hottest things with propriety red blends."
Glenn Procter noted that, "There's a change in the market, prices are going up, growers are saying 'here's an opportunity'; it's been a difficult time for wineries, but now wineries are trying to position their brands moving forward. The questions we need to look at going forward the next 6 to 12 months are consumer acceptance and take-away of bottle prices increases in the marketplace."
Reiterating the points he made at the recent Unified Wine and Grape Symposium in Sacramento, Turrentine Brokerage President and Partner Steve Fredricks, sounded a cautionary note, "The global supplies are also at their lowest level in many years. They aren't going to be rebuilt. Australian [production] is about normal in volume, quality is good and there is more wine from 2011 but it doesn't make up or create excess supplies. For Chile, more recent projections are for a more normal crop, so 2012 inventories from the Southern Hemisphere aren't such that they'll create excess supply."
The California Preliminary Grape Crush Report for 2011 was compiled and published by the California Department of Food and Agriculture in cooperation with the California Field Office of the USDA National Agricultural Statistics Service