Wagner Family of Wine Purchases Radio Legend Don Imus' Vintage Pickup Truck; $100,000 will Benefit the Imus Ranch for Kids
November 30, 2011
Chuck Wagner, Napa Valley Cabernet winemaker of Caymus Vineyards, which he co-founded with his parents, Charlie and Lorna Wagner in 1972, received today a custom 1956 Ford F-100 pickup purchased from radio broadcast star Don Imus, host of the nationally-syndicated morning show, "Imus in The Morning." The proceeds of the $100,000 sale will support the Imus Ranch for Kids in Ribera, NM, a summer camp opened by Imus and his wife Deirdre in 1999 as a charitable organization that seeks to ensure the continuity of the lives of children who are afflicted with cancer or serious blood diseases. The charity's goal is to provide children ages 10 to 17 with an experience of living life on a functioning cattle ranch free of charge, to build up the child's self-confidence and sense of accomplishment, in the company of similar children facing serious illness. More recently, it has also opened to siblings of SIDS victims. The ranch has hosted more than 1,000 children with cancer since opening in 1998. For more information on the Imus Ranch for Kids, please visit www.imus.com/imus-ranch.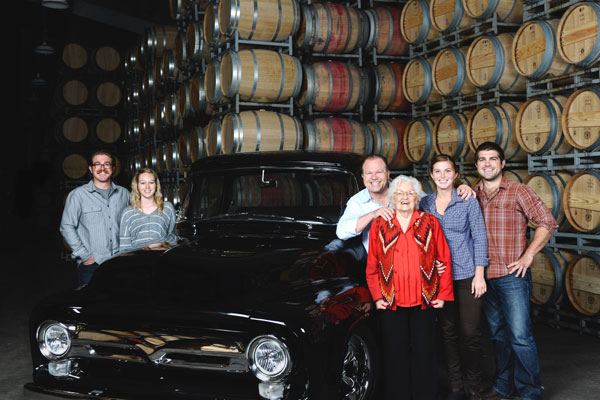 The truck will be used at the 73-acre Caymus Vineyards estate as a showpiece and personal Napa Valley tour truck of the Wagner family throughout the growing season. Chuck originally planned to utilize the Imus truck as a light-duty vineyard vehicle but then changed his mind. "Once I saw the absolute flawless condition, I felt typical vineyard duties were out of the question-this is a fair weather-only truck!" he said. As a family-run wine business the Wagners felt a very strong connection to the Imus Ranch for Kids charity, "Of course we love the truck, but I am most proud that we can make a donation of this size to the Imus Ranch," he added. Chuck is also a long-time fan of Don Imus and his shows.
Don Imus had the truck fully restored by P.J. Classic Stop in Albuquerque, N.M., to bring the historic car to its present glory. While the vehicle maintains its vintage character, many of the internal components have been updated to dramatically increase performance and safety. The pickup has a new 351 Windsor engine and is loaded with pristine custom-built parts. Prior to the completion of the restoration, the truck competed in several New Mexico car shows.
About Wagner Family of Wine
Caymus founders Charlie (late) and Lorna Wagner were raised along the Napa River in the small town of Rutherford, California. They fell in love, eloped to Reno to marry and raise a family. It was natural for Charlie and Lorna to make wine, but they waited until the age of 60 to enter the commercial wine business. Their son Chuck was 20 years old at the time. In 1972 they started Caymus Vineyards with redwood fermenting tanks that resembled hot tubs and a few barrels given to them by Beaulieu Vineyards and Inglenook. Today, Caymus Vineyards has become a standard-bearer for Napa Cabernet, producing an ultra-rich, sumptuous house style.
In 1988, the family's interest in farming along the coastline of California led them to plant their first 18 acres of Chardonnay onto a virgin site on an east facing slope, below the Sierra de Salinas range, that would later become the Santa Lucia Highlands appellation. This cool region near Monterey Bay excels with early-to-ripen Chardonnay and Pinot Noir and was impetus for the Wagner family's creation of a second winery, Mer Soleil, with a focus on Chardonnay. Two other wines have been established over the years: Belle Glos, a Pinot Noir winery named after the matriarch's maiden name Lorna Belle Glos, and Conundrum, a "puzzle" of a white wine comprised of about five varieties. The Wagners are farmers first, nurturing vines on over 1,300 acres throughout California.
Today Chuck Wagner oversees the family's business while three of his four children are staged to carry on the Wagner banner. Mer Soleil is headed by son Charlie Wagner II; Belle Glos is produced by son Joseph Wagner; while Conundrum is made by Jon Bolta. Jenny Wagner is currently working under her father's tutelage at this time. Chuck's youngest of the fifth-generation, Erin, may enter the family business as well someday.
The Wagner Family of Wine tasting room is located at the Caymus Vineyards winery, located in the center of Napa Valley at 8700 Conn Creek Road, Rutherford, CA 94573. For more information or to visit call 707.967.3010 or visit www.caymus.com.