Dirt Attractions: Do Terroir and Wine Tourism Work Together?
At the recent Wine & Territory Conference in Florence, Italy wine professors from four continents discussed the question: "Are wine tourists attracted by wine terroir experiences?" "Wine terroir" from a tourism perspective refers to experiences that allow tourists to learn about the land, soil, appellation, and viticulture/production methods. This topic is timely given the growing concern of global consumers over source of food, farming practices and impact on environment.
Probably one of the best examples of wine tourism and terroir is Italy's agriturismo model in which tourists pay to stay in a working winery in the beautiful Italian countryside. They learn how the vineyards are farmed and explore cellar operations, and, in many cases, participate in the work processes. They leave with a clearer understanding of how the terroir of the region impacts wine quality and style – and usually with stronger brand loyalty as well as a case or two of wine.
Yet examples of wine "terroir" tourism can be found in other parts of the world as well. This article describes several cases in California which illustrate that this unique type of wine tourism not only increases the number of visitors to the winery, but can also positively impact wine brand recognition and sales.
Innovative Wine Tourism "Terroir" Experiences in California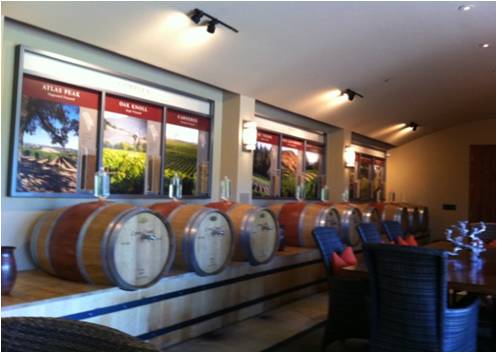 Tasting Napa AVA's – Imagine being able to taste the terroir of each of Napa's 16 AVA's (American Viticulture Areas). This is the experience that Conn Creek Winery in Napa Valley has created for visitors who are first educated on the difference between the AVA's and then invited to taste cabernet sauvignon from a different vineyard in each region. Next they create their own blend and take home a bottle of their "hand-crafted wine." This unique concept won Conn Creek the Most Innovative Wine Experience Award from Great Wine Capitals Global Network and has increased wine tourism by 320% in one year. (http://www.conncreek.com/)

Barrels of cabernet sauvignon from 16 Napa AVA's
at Conn Creek Winery. Photo by L. Thach

Tractor & Jeep Rides Through the Vineyard - Research shows that wine tourists enjoy not only tasting wine, but gaining knowledge about winegrowing processes and having fun. Several California wineries have capitalized upon this concept by offering tractor and jeep rides through the vineyard. At Benzinger Family Winery in Sonoma County, tourists are loaded on a tram attached to a tractor and driven through the vineyards. There they learn about beneficial insects, weeds, and other aspects of biodynamics. At Steinbeck Vineyards in Paso Robles, visitors have their choice of three "crash courses" which involve taking jeeps out into the vineyard. One tour focuses on sustainable farming, another explores the history of the region, and a third tour examines the spiritual aspect of life in a vineyard. These unique "terroir" experiences have garnered both wineries much positive press, increased tourism, and affirmative reviews on social media platforms such as Facebook and Yelp. (http://www.benziger.com/ and http://www.steinbeckwines.com/)
Biodynamic Field Camp - A more intensive experience can be found at Paul Dolan Vineyards in Mendocino County with an invitation to the weekend Biodynamic Field Camp. Here visitors get their hands dirty helping to prepare the soil and air preparations for the vineyards, as well as working in the cellars. They learn how the cattle, chickens, insects, and plants work synergistically to create a healthy environment for vines and quality wine. The results include not only higher awareness of environmental issues, but increased wine sales and positive press. (http://www.pauldolanwine.com/)
Defining "Terroir" and Linkage to Appellation – Do Wine Tourists Care?
The term "terroir" can be highly controversial, with some experts professing it to be the soul of a great wine whereas others deem the concept as "hogwash". This is often due to three levels which can be used to define terroir:
1) The literal level, meaning "earth or soil" (Websters, 2010)

2) The environmental level, including "climate, sunlight, topography,
geology; and soil/water relations" (Robinson, 1999)

3) The holistic level, which includes "all of the above plus viticulture
and winemaking practices, as well as desires of the consumer and the
local community" (Gade, 2004)
Many of the appellation systems around the world are linked to two or more levels of these "terroir" definitions. The AVA system in the US and the GI concept in Australia are based on the environmental level, but also, to some extent, on desires of consumers – as they will replant vineyards to meet consumer varietal demand. In Europe, Italy's DOC, France's AOC, Spain's DO, and Austria's DAC appellation systems incorporate all three levels –primarily because their regulations include viticulture and winemaking requirements, such as type of grapes allowed to be grown in the region.
Despite the occasional confusion over the term "terroir," wine tourism research illustrates that most wine tourists are more interested in tasting, learning, and having fun. Studies in California have shown that the average wine consumer is aware of the broader level AVA such as Napa Valley but only the highly involved consumer knows about the more specific AVA's, such as Rutherford. This suggests the importance of segmenting wine tourists, but more importantly highlights the need to create terroir experiences that are both educational and entertaining -- as illustrated by the three examples above.
About the Author: Dr. Liz Thach is a Management & Wine Business Professor at Sonoma State University and has just returned from the Wine & Territory Conference hosted by the University of Florence (UniCeSV) in Italy. For a copy of the presentation, please contact her at lizthach@aol.com.