2011 Salary Survey Report Preview
Winemakers and sales see increases compared to decreases one year ago.
September 26, 2011
The 2011 Salary Survey Report seems to reflect a new optimism in the wine industry. This year, salaries for 22 key positions increased by an average of 2.3 percent, compared to 1.3 percent the previous year. Winemakers and VP sales, saw salary increases, both of which had seen decreases last year. Merit budgets, however, increased by only 2.9 percent this year, compared to 3.3 percent last year.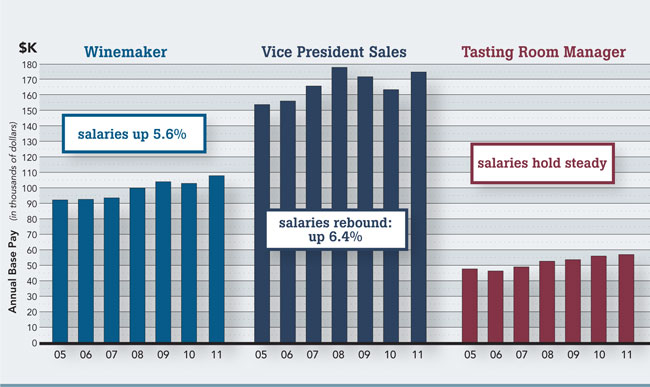 Among key positions in the wine industry, this year's survey shows that the vice president of sales position has seen a 6.4 percent increase in base salary, compared to 2010's 5 percent decrease. Additionally, winemakers saw a 5.6 percent increase over the last year, compared to a 1 percent decrease the previous year. Vineyard managers, whose salaries have typically fluctuated through the years, saw a 1.5 percent increase in average salaries, a small yet positive shift from 2010's 4 percent decrease. Tasting room managers and office managers each saw an increase of 1 percent this year.
This year's salary survey has broken out winemakers into two categories instead of just one as in the past: the winemaker 2 position is the senior position and is more strategic in nature, and winemaker 1 is more tactical in scope, requiring fewer years of experience than winemaker 2. Winemaker 2 earns an average salary of $121,774 and winemaker 1, $95,263. For both positions, small wineries pay the highest salaries, and those at extra-large wineries pay the lowest.
You can read the full article in the October 2011 issue of Wine Business Monthly magazine, which will be hitting mailboxes at the beginning of October. If you aren't a current subscriber and would like to receive the magazine, please click here to subscribe.