Drink Local Wine Succeeds in Mission
Drink Local Wine is the passion of Washington Post wine columnist Dave McIntyre and his friend Dallas-based freelance journalist Jeff Siegel.
The two met while on a wine trip to South America in 2008 and quickly became friends. When back in the states, they emailed frequently about how no one was paying attention to the wines from the 47 other states that make wine. They thought that the press ignores almost everything except California, Oregon and Washington.
So they acquired the domaine name of "drinklocalwine.com" and put up a simple webpage.
Siegel was approached in 2009 by the Texas agriculture department who wanted to plug into the DLW website. So they did their first conference in Texas in 2009 (Texas was willing to sponsor the event), and it drew enough people for them to term it successful.
The following year they went to Virginia and it was equally successful.
Missouri approached them to do this year's conference, just held on April 1-3.
The weekend is fully packed with regional identity. Based on the Missouri conference, about 200 people floated in and out over the weekend, the first full day filled with seminars, with this year's topics ranging from "We don't need no stinkin' vinifera: The grapes of Missouri", moderated by Doug Frost MS MW, to "Creating a buzz: How regional wines can grab the public's attention", moderated by Michael Wangbicker of Balzac Communications. The afternoon was a walk around tasting of wines and a "Tweet Up", for people to tweet comments about the wines. The following day offered tours to three different wineries.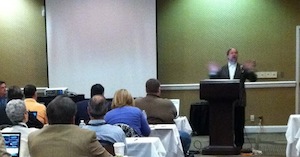 Doug Frost MS MW moderating at the Missouri Conference
Through these efforts, the two organizers realized there was huge interest in regional wines. Their website received numerous comments. Their audience, they discovered, was younger and not interested in the typical "top-down" (meaning, learning about the top wines of the world and then learning about what you can afford) approach to learning about wine. They were also very interested in social media.
Next year, Colorado has stepped up to host the regional conference.
Siegel says they are a cross roads now. They are a 501-C-3 business, but he thinks they need to take it up a level and make it more business-like. He says his goal is to introduce people to these regional wines. He does not want to be judgmental; he is not saying the wines are good or bad. Just getting people to taste what many other people seem to ignore.