Let's Make a Deal: Bacchus Backs Qupé Along With Cool-Climate Syrah
Bacchus Capital Management's announcement today that it is providing growth capital for an expansion by Central Coast producer Qupé says something not just about Qupé's reputation and potential. It also makes a statement about the potential for cool climate Syrah.
Qupé's total production is currently about 35,000 cases and depending on the vintage, 60 to 65 percent of it is Syrah. Qupé founder Bob Lindquist said the wine he plans on expanding the most is the Qupé Central Coast Syrah, a wine that retails for about $18, made in a style that's "between savory and fruity" with less than 14 percent alcohol.
"That's a style of wine consumers can enjoy and identify with, and appreciate with food," Lindquist said. "And there are so many great Syrah vineyards throughout the Central Coast. "I include Paso Robles in that, even though it is warmer there," Lindquist continued. "There are grapes that need a home and we'll be the home for them."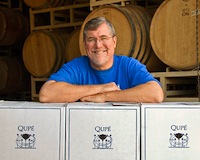 Bob Lindquist
Lindquist, who said he'd like to perhaps double production over the next five years, didn't disclose how much capital is involved, saying, "Let's just say it's enough to allow us to get to the next level."
"We think Syrah is an underappreciated grape that's had a little bit of a bump this year and is regaining popularity," Sam Bronfman II, co-founder of and managing partner of Bacchus said.
"Qupé makes some of the best Syrah in the marketplace and it's going to be a growth category in the future," he said. "It seems like a perfect winery-brand-winemaker combination to lead the resurgence of Syrah that we firmly believe in."
"You can count on one hand, or maybe on one-and-a-half hands, all the great red wine grapes, and Syrah is one of them," Lindquist said. "The Central Coast is the best spot in California, and consequently is one of the great spots in the world to grow Syrah."
Clearly Syrah has taken some lumps in the marketplace recently, however, as evidenced by the often-repeated question along the lines of, 'What's harder to get rid of than a case of Syrah?"
"I think the brand Qupé transcends the category," Bronfman also said. "You know the name of the winery and that it stands for very high-end wines and Syrah has continued to be their signature. It's a rich, full-flavored wine with lots of complexity and will continue to grow as consumers look for a wider range of experiences in drinking wine. Not everybody's going to drink Cabernet and Pinot."
"Because Syrah was overplanted or planted a little bit ahead of its time, too many people jumped on the bandwagon," Lindquist said. "Unfortunately, over the last five years, some of the better Syrah vineyards have been grafted over to Pinot Noir following the market. But there are plenty of great Syrah vineyards out there and we look forward to working with more of them."
Bacchus provides mezzanine financing and private equity. It was established in 2007 by Bronfman with Peter Kaufman and Henry Owsley: Bronfman served as president of Seagram Chateau and Estate Wines from 1996 to 2001; and chairman of Diageo Global Wines from 2001 to 2003.
The financing for Qupé is the second deal Bacchus Capital Management has done with a wine producer so far. The first was with Cameron Hughes.
"Qupé is an outstanding producer of wines and they were looking for growth capital and we'd like to think they decided to partner with us because we provide a combination of alternative capital in the wine space with great operational insights," Bacchus co-founder and managing director Peter Kaufman said. "I think another reason they're partnering with us is we had great success with Cameron Hughes where we provided them with growth capital and they did get to the next level. They're doing wonderfully and we're very proud to have been able to be helpful there."
"We think we're going to be seeing increasingly interesting opportunities given the financial landscape and the need for general alternative capital," Kaufman said. "Wineries need to think differently and creatively to reach their potential these days."
"When we started, people were not as familiar with the alternative capital that we provide," Bronfman said. "And it's taken a bit of an education to get there. We're not going to make a deal - just to make a deal, we want to make sure we're with the right people; the right winemaker; the right brand."