Preliminary Crush Report: Wine Grape Crush is 3.58 million tons, Prices Off 7 Percent
February 10, 2011
The preliminary crush report released by the California Agricultural Statistics shows that a total of 3.58 million tons of wine grapes were crushed. The figure is about 3 percent lower than the 3.7 million tons crushed in 2009 but came in higher than industry experts had expected.
2010 is the third-largest California crush to date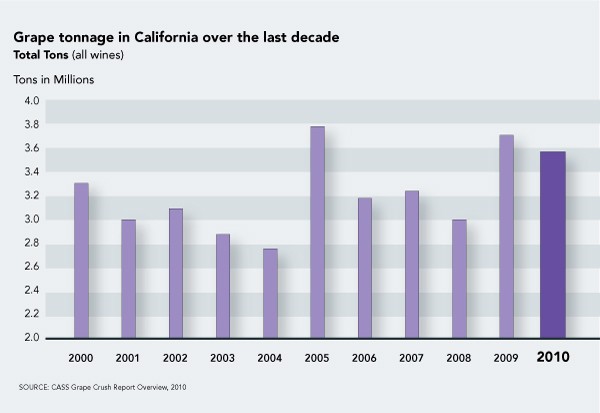 As expected, average wine grape prices fell. Statewide, they fell by 6.6 percent.
"We need the supply because we have had good domestic demand for value brands," Glenn Proctor of the Ciatti Company said of the larger than expected crop. "We feel good about the crop but we're surprised."
"I think it's good for wineries that are selling value priced wines, which has been where we've seen demand in the marketplace," Steve Fredricks of Turrentine Brokerage said. "We'll be able to supply the US consumer with California wine."
Red wine varieties accounted for the largest share of all grapes crushed, at 2,047,766 tons, down 1 percent from 2009. The 2010 white wine variety crush totaled 1,535,133 tons, down 6 percent from 2009.
The Lodi and Modesto areas were down in tonnage, as were certain spots in Sonoma, but in most other areas, tonnage crushed was about the same or represented an increase from 2009.
In Sonoma, where summer heat spikes led to crop loss, the Zinfandel crop was down by 31 percent. Comparing 2010 with 2009, Napa was down 3 percent, Sonoma down 10.7 percent, Mendocino was up 10.2 percent, Lake County was up 10.5 percent, Lodi was down 21 percent and in the Delta region, tonnage was down 28 percent. Monterey was up 2 percent while San Louis Obispo/Santa Barbara was up 10 percent.
Napa Prices Drop: In Napa Valley, the average prices historically have increased because of contracts that use the previous year's average plus an escalator. But according to Table 10 of the report, the table that doesn't include sales under shared ownership, the average Napa price was $4,263 per ton, a decline of 7.7 percent from 2009. The average price for Napa Cab was, however, about $250 higher if you looked at Table 6.
Why was the crush a bit larger than expected? It seems there was a larger crop than growers had anticipated in the Central Valley with large yields and some new acreage. In the northern interior of the state, some thought that after 2009's big harvest, yields would fall but the growing season was mild. The North Coast wasn't down as far as some had expected either. Mendocino and Lake County, on the other hand, had reasonably large crops and the Central Coast had a big year too.
Chardonnay tonnage fell by 10 percent from 2009 but was still above the five year average tonnage and accounted for the largest percentage of the total crush volume with 16.4 percent.
Sauvignon Blanc was down 14 percent
Cabernet tonnage statewide rose by 0.6 percent compared to the previous year – so was basically flat. Proctor noted that it's the variety for which there's the most demand at the moment.
Merlot tonnage fell by 4.4 percent and prices were off by 9.2 percent
Pinot Noir tonnage fell by 5.9 percent on a statewide basis but Pinot Noir prices fell by 10 percent
Zinfandel which goes into both to red and white wines can be tougher to monitor. In the areas where "red" Zinfandel is produced it fell significantly, while in areas where "white" Zinfandel is found, crop levels were not down by as much. On a statewide basis, Zinfandel fell by 12 percent from the previous year.
Moscato Canelli tonnage rose 9 percent and Moscato Alexandria tonnage rose 17 percent but on a small base.
"Overall, the market is relatively healthy," Proctor of Ciatti said. "There's been good demand. In the bulk market, we're seeing a lot of negociant activity. "The question is still going to be on coastal demand in general," he said. "That's still going to take a little time to recover in terms of overall demand."
"This isn't going to stop people from needing supply in 2011 but given the economy and the repositioning of some brands," Proctor said, "I think it's still going to be challenging. Prices just aren't going to jump overnight."