Coppola's Attorneys Lay Claim to the Word Diamond and or Diamond Shapes
Take Issue with tiny Diamond Ridge Vineyards and Mapes Cellars Labels
In a situation reflecting how challenging it can be to select a brand name for a wine without ruffling feathers, attorneys representing Francis Ford Coppola are threatening legal action should the owner of a small winery in Lake County continue to bottle his wine with the word "diamond" as part of the brand.
The conflict pits a large winery with significant resources against the owner of a relatively small Lake County vineyard.
Coppola's numerous wine brands include the Diamond Series and Diamond Collection.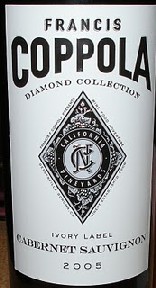 Diamond Ridge is not alone. Public records show that Coppola has challenged the use of the word diamond in a number of cases: Hawk and Horse Vineyards wanted to register Diamond Hawk but decided to abandon the application; Sutter Home was to register Diamond Heights but abandoned the application.
Mapes Cellars, a new winery in Temecula, uses four small diamond shapes as part of a brand for which it produces just 600 cases a year. The winery uses the small solid diamond shapes below its name. The use of the four diamonds is derived from the Mapes family Coat of Arms. A dispute between Mapes and Coppola is pending before the U.S. Patent and Trademark Office's Trial and Appeal Board.
It appears that for about eight years, Coppola did not oppose new wine labels that incorporated the word diamond on the label or that used diamond shaped graphic elements, but that a new direction took hold roughly a year ago.
Coppola's attorneys are apparently okay with "Diamond Ridge Vineyards" as a vineyard designation but are challenging Diamond Ridge Vineyards' use of the word Diamond in any form in relation to its brand. Coppola's attorneys have advised Diamond Ridge that they plan to protest trademark applications for "Diamond Ridge Vineyards" and "Two Jakes of Diamonds."
Diamond Ridge Vineyards was named for the semi-precious Lake County Diamonds found on the property. Lake County Diamonds are clear, a non-crystalline form of quartz that are unique to the area.
Owner Jake Stephens started the brand in 2003 to showcase the vineyard and to perhaps develop an alternative marketing source for

the grapes. His grapes have been sold to Hess Collection, R.H. Phillips, B.R. Cohn, Trinchero and to Ledson Winery, which recently stopped using "Diamond Ridge Series" on wine labels to appease Coppola.
Stephens has already abandoned an application to register "Diamond Ridge Series" in light of Coppola's apparent concerns. However, he does not believe Coppola has rights to any and every use of the word diamond in connection with a wine brand.
"We view this as might over right," Stephens said "We're little, guys, just fledgling at 900 cases at this point."
According to correspondence sent to Coppola by Jay Behmke, an attorney representing Diamond Ridge Vineyards, there were eleven registered trademarks for wine and sprits already using the word diamond 10 years ago when Coppola first registered its diamond trademarks while 29 trademarks for wine and spirits have since been registered using the word "diamond" in the label, including such labels as Red Diamond (St. Michelle Estates).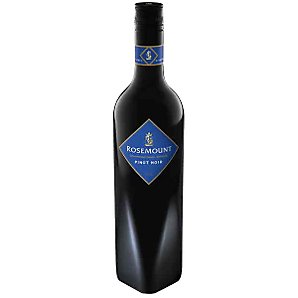 "The labels are totally dissimilar, and the names are totally dissimilar from the trademarks they have," Stephens said. "They have no reasonable argument against us having Diamond Ridge or Two Jakes of Diamonds. We have COLAs from TTB under both of those names, and the labels are dissimilar."
"In all of these cases, there's just absolutely no way the consumer is being fooled," winemaker Ken Mapes told winebusiness.com. "That's a burden of proof Coppola is going to have to overcome, and I don't think they can."
According to Michael Newcomb, an attorney representing Mapes, under Federal trademark law the basic "likelihood of confusion" test requires the wine consumer be reasonably prudent, familiar with the Coppola mark or vice versa, and despite that familiarity, the offending trademark would cause "probable" confusion. In correspondence sent to Coppola's attorneys, Newcomb wrote, "Any 'consumer' that would confuse the Coppola mark with the Mapes Cellars mark would have to be mentally challenged or … 'stupid' and thus would flunk the "reasonably prudent consumer test (for determining the likelihood of confusion between trademarks)."
In a brief filed with the Trademark Trial and Appeal board, Newcomb cites 29 examples of well-known wine brands such as Rosemount, and Rombauer "Diamond Selection" Cabernet Sauvignon, that include the term diamond and/or use diamond shapes in or on their labels.

Trademark disputes over wine labels are typically settled and not litigated by wineries. Most often, they involve a new application where one side doesn't have much financial motive to fight. Thousands of new labels are launched every year: there were 3,117 trademark filings for wine in 2009, and 2,114 so far this year.
"The broader story is that it's almost impossible to name a winery these days," said Clark Smith, winemaker for Diamond Ridge Vineyards. "Open a dictionary to any word and somebody's got it tied up."
"My feeling is that Francis probably has no idea what's going on here and is getting not great advice," Smith said. "I know he's a great guy and cares about his public image."
For articles on trademarking your wine brand, search "trademark" in the Wine Business Monthly archives.