Custom Crush Facility Opening in Brooklyn
Brooklyn's artisanal revolution, which has embraced all aspects of the food business, has taken on a decidedly vinous face. The booming borough in the shadow of Manhattan now has two small wineries on tap and a third major one soon to open.
Every Saturday for the past two months, Brooklynites in hard hats have high-stepped gingerly over bricks and jutting floorboards and snaked their way past protruding cables to preview the future home of Brooklyn Winery. The plant now under construction will import grapes from California and New York State wine regions to be processed by professional and amateur winemakers in a Williamsburg neighborhood slowly transitioning to fashionable status.
Their shop is projected to open in early September, propelled by a wave of buzz that has been building throughout the summer. Proprietors Brian Leventhal and John Stires have exploited the press and social media to fire up interest in what they envision as a community winery to include classes, entertainment and professional events..
Their venture is the latest in a fitful stream of urban winemaking ventures in Brooklyn and metropolitan New York. The only operative facility in the Big Apple today is the City Winery near the Holland Tunnel in downtown Manhattan, which runs a wine-making program for about 150 subscribers who sign on to make their own full and partial barrels. It is, despite its basis in wine, primarily a bustling restaurant, hospitality and party venue emphasizing wine and featuring big names singers and bands.
The Brooklyn Winery will be smaller, about 7,500 square feet with winemaking equipment to support a maximum of 500 barrels although Leventhal projects a more modest 100 client barrels to start. There will be kitchen, dining and private event venues, and as at its Manhattan counterpart, winemaking classes and special events.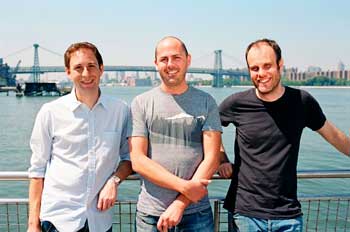 (L to R): Brian Leventhal, Conor McCormack, John Stires.
photo by Ben Kilgust

Resident winemaker Conor McCormack, formerly with San Francisco's Crush pad, will supervise production and lead subscribers through crush, pressing, racking and bottling in hands on sessions. He'll also make house wines for the tasting room, the wine bar, and for retail sales. Leventhal and Stires are amateur oenologists who learned their craft at Make Wine with Us in Wallington, New Jersey.
Brooklyn is also home to the Red Hook Winery, which uses only grapes from the North Fork of Long Island. It is a limited production facility, though it has two winemakers based in California and an in-house oenologist in Brooklyn. For a small winery producing no more than 700 cases, it has gained major entrée into the nation's toughest market, with listings on several wine lists in Brooklyn and Manhattan, including two of New York's hottest restaurants, Momofuku and Marea.
After a career as a production engineer in aerospace, Cornell-trained Alie Sharper founded Brooklyn Oenology in a former Greenpoint warehouse, and distributes her own wines to stores and restaurants in the metropolitan area. She makes approximately 2,500 cases annually at a custom crush house on Long Island, using only Long Island grapes, and hopes to have a tasting room open in Williamsburg by early Fall. She plans, eventually, to build her own full-scale winery in Brooklyn.
In the early 1900's, Manhattan's lower East Side was home to several kosher wineries, but as the immigrant Jewish character of the lower East Side changed, the wineries disappeared and the last of them closed several years ago. The Royal Wine Corporation, the major American wine company specializing in kosher wines, domestic and foreign, once had facilities in Brooklyn, but now makes its domestic wines in Marlboro, in the Hudson River Valley community of Marlboro, New York and Oxnard, California. Royal Wine, also known as Kedem, maintains Eastern headquarters across the Hudson River in Bayonne, New Jersey.