All About Riesling: The 3rd Riesling Rendezvous raised interesting questions but few answers
Great wines were shown, comments were freely offered, but answers hard to track at the third Seattle-based Riesling-focused conference, held July 11-13, 2010, sponsored by Chateau Ste-Michelle and Weingut Dr. Loosen (partners in Eroica, and the Single Berry Select, a TBA-style wine from Washington).
The event kicked off with a grand tasting Sunday evening. Producers were grouped by region, and really showed well the wide range of flavors and styles that Riesling can exhibit.
Ste-Michelle CEO Ted Baseler kicked off the formal event on Monday morning, talking about "the need to dispel the sweet image of Riesling" (and a thank you nod to the International Riesling Foundation, which has developed a sweetness chart for producers to use), as well to work against "the unattractive descriptors frequently used for this variety: racy acidity, rot, and diesel or petroleum." He claimed these words were not inviting.
Ernie Loosen thanked all who came to this event and asserted "We all need to keep the Riesling story alive, with its big range of styles and diversity, which can be confusing for the consumer."
Writer Bruce Schoenfeld moderated the first panel, focused on the drier style of the grape, with humor and good questions. The panelists included Tom Barry of Jim Barry Wines, Barossa Valley, Australia; Peter Bell of Fox Run Vineyards in the Finger Lakes of New York; Willi Bründlymayer of his eponymous winery in the Kamptal, Austria; Etienne Hugel of his family's winery in Alsace, France; Johannes Leitz of his family's estate in the Rheingau region of Germany; and Wendy Stuckey, the white winemaker at Chateau Ste-Michelle in Washington, and a former Australian winemaker.
Fourteen wines were tasted blind, with the Bründlymayer Zöbinger Heiligenstein 2008 my high scorer, with Hugel Riesling Jubilee 2004 and the Chateau Grand Travers Old Mission Peninsula 2008 from Michigan not far behind.

After lunch (and more Alsace Riesling), breakout sessions followed. Stuart Pigott moderated a session on the aging of Riesling, with many fine examples of young and old styles shown. Pigottt claimed, "Liebfraumilch [semi-sweet white German wine literally meaning 'Beloved Lady's Milk', ubiquitous in the 1970s; one of the most famous is Blue Nun] poisoned the world of Riesling, and Riesling has managed to recover from that disaster. American winemakers have cracked the Riesling code. Australia had a unique style in the 1960s, but that they lost track, but now they are back on track. Other are trying, too, in places like China, Italy and other spots. We are now in a second global age of Riesling." He claimed it was more exciting now due to communications and sophisticated consumers.
The most remarkable wine was a 1946 Riesling "Cabinet" (an old designation for a high quality wine) from Staatsweingut Kloster Ererbach from Rüdersheimer Berg Schlossberg on the Rheingau: a still-alive beauty showing mintiness, apricot, honey and a great depth of flavor and length.
Another walk-around by region tasting followed before a boat ride around Lake Washington.
Day two began with a session on so-called off-dry Riesling. Bruce Sanderson of the Wine Spectator did an excellent job of moderating his panel. Winemakers present on the panel were Bob Bertheau, head winemaker at Chateau Ste-Michelle; Helmut Dönnhoff of his family's estate in the Nahe, Germany; Andrew Hedley, of Framingham in Marlborough, New Zealand; Egon Müller of his eponymous Saar estate in Germany; Wilhelm Weil of Weingut Robert Weil in the Rhinegau, Germany; and Nik Weiss of St. Urbans-Hof winery, the second largest winery in the Mosel-Saar-Ruwer area of Germany. While all the German wines were remarkable in quality, the big surprises for most of the audience were the quality of the wines not from famous traditional Riesling-growing regions: Canadian Cave Spring Cellars 06 Ontario wine; The Anthony Road Wine Company's Riesling from the Finger Lakes; and the Gelnora 09 Riesling from the Finger Lakes.
One comment from Nik Weiss was at least very intriguing. When a question from the audience was asked about the loss of the perception of sweetness in aged Riesling (a commonly known phenomenon and little understood), he grabbed the microphone and claimed that "sugar molecules, like tannins, polymerize (form together) over time and those longer chained sugar molecules give a lower impression of sweetness over time." He also claimed that the polymerized chains offer a more creamy texture. True or not, he made some sense, but no data was offered to back it up.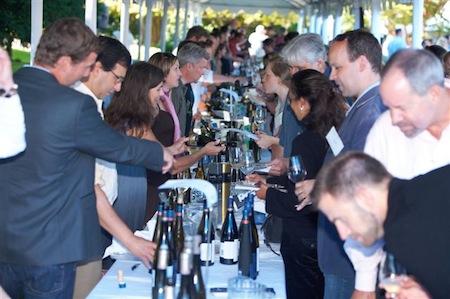 Egon Müller also said something interesting when asked about harvest parameters. He said it was a simple selection process. He just selected for botrytis. That caused a bit of laughter in the audience.
Jim Trezise of both the NY wine-grape foundation and the International Riesling Foundation (the IRF), which was formed just after the 2007 Riesling Rendezvous) talked about the work they are doing for Riesling. They developed a Riesling scale for producers to use (Pacific Rim was the first to put the scale on the bottle), which can be found at the website: www.drinkriesling.com. He asked that more people use the scale.
John Gillespie of Wine Opinions then went through some recent research, and showed that the trade thought that Riesling offered good value across the different countries, but the trade was unaware of the IRFs efforts and the Riesling scale. But the trade thought the Riesling scale could be useful. He commented, "the IRF has more work to do." For consumers, it was more polarizing. People thought that Riesling was always sweet and not for them. They were reluctant to try Riesling. His findings reinforced Ted Baseler's initial comments.
The last interesting program was a non-tasting session hosted by Professor Greg Jones, a wine and climate expert from Southern Oregon University in Ashland, Oregon, and Professor Hans Schultz , director of the Geisenheim Research Center, on the effect of climate change on Riesling. It was more of a climate change history, problem list, partial solutions list and overview than directly relative to Riesling, but the two of them really covered their bases well with great data and charts. They backed up every claim with solid research. What was new information was that the first 6 months of 2010 were the warmest months on record, all over the world. But in the Pacific Northwest, May and June were the wettest and coolest months on record. His main point though out the presentation was the unpredictability of weather patterns, but that the planet has definitely been warming up to a current one degree increase with the likelihood of a 2.5 degree increase over the next 20 years.
The two also discussed the temperature parameters for Riesling. While they know that Riesling does best with average temperatures between 13.2 º C and 17.1 º C, they don't know what the upper most limit for heat and Riesling would be. Schulz said, " We don't known how plastic (expandable) Riesling can be." Temperature is not the only parameter. Water is a huge issue, as well.
The major Riesling-related viticulture point to combat climate increase was offered by Dr. Hans Schultz. He suggested, "One can prune vines by trimming above the fruiting zone, keeping tips intact but thinning the canopy above could be heat beneficial." He showed data from different experiments to back this up as a cooling trend for the grape, as not to get too high a sugar content in the ripe berries, but full phenolic ripeness and flavor at lower alcohol.
There was talk (nothing yet confirmed) that this Riesling Rendezvous will better cooperate with the two other Riesling programs offered in Germany and Western Australia, resulting in a 3-year rotation, so that a Riesling conference will be held annually in a different place (Washington, Germany and Australia). Producers who are interested in showing their Rieslings at future Riesling events should contact info@rieslingrendezvous.com.